A Spotlight On The Bean
Baja Bean Restaurant Review
Baja Bean is a fresh, Southern California-style Mexican restaurant that provides an extraordinary amount of different food choices and activities, from tacos to quesadillas and a side bar, all the way to playing pool and relaxing at their cozy outdoor patio.
The restaurant offers eat in, order online, and pick up options. The Bean hosts poker games every Monday night from 6-8 pm, a "DJ GHOZT SPINS," during which they play cool tracks and mixes on Wednesday at 10 pm, and a karaoke night every Friday and Saturday nights at 10:30 pm.
A Richmond tradition, The Baja Bean, a family restaurant owned by the Allums family, fills a needs in the dining scene. Sophomore Abi Allums loves working in her family's restaurant and is proud of all that it offers. 
How long have you and your family had the restaurant?
Since 1998, so they had it long before I was born.
What are your top favorite items off the menu?
The Create Your Own Quesadilla with cheese and avocado, ultimate nachos, the prickly pear smoothie, and the cookie skillet.
Baja Bean's definitely my number one pick for Mexican food. Inside the restaurant, the place looks retro with stone walls and floors that combined large square windows, which allows lots of sunlight to flood into the room. Every time a waiter passed by, my mouth watered as we waited for our order to arrive. I went with the Game Day Nachos, and the taste of the barbeque chicken in the nachos served as a nice touch, which really put the whole dish together. The portions were surprisingly large; each menu item serves a generous amount that really fills the stomach. The restaurant has great service too; the waiters are friendly and knowledgeable about the menu items. Our waiter happily answered all of our questions without hesitation.
Overall, The Bean is a cute place to eat, socialize, and watch the game, proving its status as a hot spot in Carytown.
About the Writer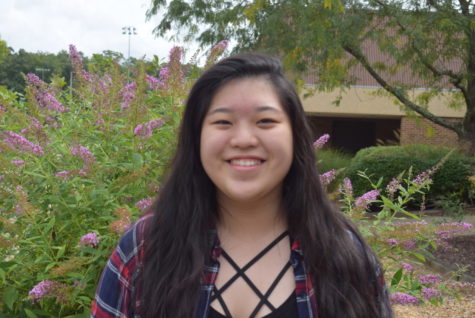 Anna Chen, Midlo Scoop Staff