Hitting the links with Ester Choi
Ester Choi's Commitment to the University of Detroit Mercy
Golf is all about precision and accuracy; it takes thousands of hours of practice to hit such a small ball into an only-slightly-larger hole. Senior Ester Choi knows all about the dedication the sport requires to be successful, so much so that she will continue her golf career at the University of Detroit Mercy after graduating.
Ester has been golfing since the eighth grade, after she saw some women playing golf on the course, sparking her interest. She picked up a club and instantly fell in love. There were some points in the beginning when she wanted to quit, but her current swing coach, Rick Schuller, helped her to push through some difficult situations.  "Meeting Rick and learning from him has been great. He has taught me so much about golf and numerous life lessons. I learned from him that golf could be so amusing and I don't need to put so much pressure on myself," Choi said.
Her passion for golf led her to accomplish more than she thought possible. Choi has committed to the University of Detroit Mercy, where she will play Division 1 golf on the women's golf team. She aims to major in pre-med chemistry while keeping her passion for golf alive. Choi's journey has required grit and a whole lot of time. She knows that "hard work pays off, as cliché as that sounds, it really is true. I have worked really hard to get to where I am with golf. I have dedicated my time to become better at golf. I also learned to stay positive. I learned that if I stay positive, my results are good."
Choi practices many times a week and participates in tournaments frequently. In her freshman year, she played in the RWGA Richmond City Amateur and secured her position as a runner-up. "This was my biggest tournament at the time and it felt incredible." In addition to this wonderful accomplishment, Choi has also placed top 5 in many Peggy Kirk Bell golf tournaments, 4th in the AJGA tournament and winner of PKBGT Order of Merit.
Over the past years, golf has not only brought incredible moments for Choi but has also taught her some valuable lessons that she is eager to take with her in the future. "To me, golf is something that reflects life. I'd say golf is a mostly mental game, so you'd have to have a strong mentality and stay focused for four to six hours straight. Golf has helped me grow into the person I am today. Through golf, I have met some amazing people. It has opened me up to so many opportunities and I'm excited to see what college golf will bring me!"
Choi has enjoyed her time at Midlothian High School as a golf athlete. "I'd say my sophomore year was one of my favorites at Midlo. We had just got a new golf coach, John Pruitt, and he helped to bring the team pretty close. We also went to the states that year and it was probably one of my most favorite seasons."
In the fall, Choi will join the University of Detroit Mercy women's golf team. Located in Detroit, Michigan this school offers a blend of academics and athletics. Choi is all set to embark on this journey, explaining "When I visited the campus, I felt a sense of being at home. I could see myself going here for the next four years. I am super excited to learn more skills from their talented golf team."
Although her time in high school is coming to an end, she is thankful to all her coaches and team members for supporting her. Choi has bigger goals for her life and future which she aims to achieve in general.
Leave a Comment
About the Contributor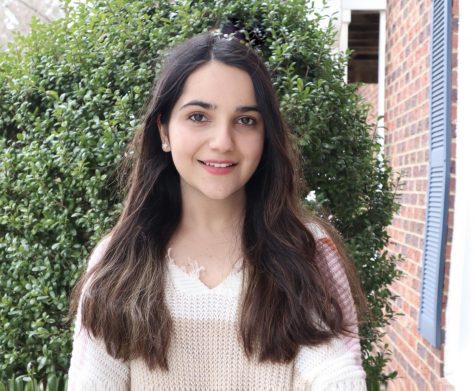 Mannal Javeed, Midlo Scoop Staff
Mannal Javeed, Class of 2021