Silk Sonic debuts at the Grammys
63rd Annual Grammy Awards
Bruno Mars and Anderson .Paak debuted their new music group Silk Sonic on stage at the 63rd Annual Grammy Award ceremony on March 14, 2021. Hosted by Trevor Noah, the night opened with a light-hearted speech to set the tone for the evening and introduce the series of jaw-dropping performances to come. Despite this year's Grammys taking place under COVID-19 restrictions, the lineup of artists still found creative ways to put on a show for all watching from home. Along with the performances, came lots of awards handed out to the year's most deserving artists, some of whom included Megan Thee Stallion, Taylor Swift and Beyonce. However, one of the top highlights of the night was Silk Sonic's performance, as many were eager to hear the up-and-coming band play live for the first time.
The new band originally was not supposed to be a part of the night's acts, but after Mars sarcastically wrote in a note calling the duo "two out-of-work musicians who could really use the promotion right now," the Academy added them last minute. The band's hit song "Leave the Door Open," released only a few weeks prior to the Grammy's, was their main performance of the night and has been classified as a "comeback of 70's soul" by Variety Magazine. The pair wore matching burgundy suits complete with retro sunglasses, embodying the feel of their new music. "Silk Sonic's songs remind me of an older style that hasn't been popular for a long time. I'm excited for their new album to come out eventually," sophomore Caden Cibellis said. The new band also performed an electric version of "Good Golly Miss Molly" by the late blues artist Little Richard as this year's Grammys worked to commemorate some of the most accomplished names in the music industry who passed away during 2020.
There is no doubt that Silk Sonic and their revival of the 70's era had a legendary debut at the first big award show of the year, providing the duo with a platform for exciting possibilities to come in the future. Depending on how their first album An evening with Silk Sonic charts in the months ahead, music fans could potentially see the pair again at the Grammys as not just performers, but rather nominees.
Leave a Comment
About the Contributor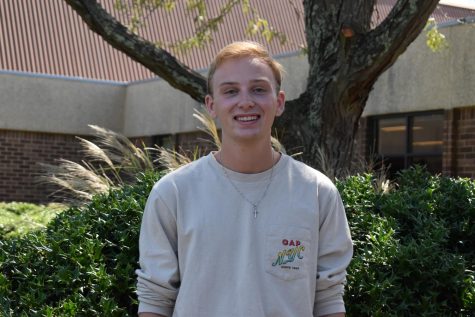 James Galloway, Associate Editor
James Galloway, Associate Editor,  Class of 2023