Countering COVID-19 loneliness through letters
In the wake of the COVID-19 pandemic, millions across the globe experienced unprecedented forms of isolation. Given the severity of the virus, stay-at-home orders and visiting limitations of all kinds forced individuals to reconcile with a heightened state of loneliness without any guidance on how to cope in such an environment. As for two high school students from Montclair, New Jersey, Annika Aristimuno and Layla Hurwitz, took it upon themselves to specifically come to the aid of nursing home residents battling this loss of interaction, thus inspiring the nationwide Letters for Rose movement.
Prior to COVID-19, the pair of teens regularly volunteered at a number of their local nursing homes. However, one resident in particular named Rose stood out to them. When in-person volunteer hours were still permitted, Rose provided the two with insightful anecdotes about her life, often recalling childhood experiences. Over the course of their time spent together, Aristimuno and Hurwitz developed a strong bond with Rose, prompting them to take action when the pandemic hindered their ability to continue their volunteer work. Knowing they wanted to maintain meaningful connections and relationships with the residents, they launched the act of collecting letters from people in their hometown to send to the elders. The two took on the task hoping to uplift and instill a sense of joy in those who made such a monumental impact on the teens' own lives.
What began as a local act of kindness, morphed into a countrywide initiative. Now, with over 50 chapters in the United States alone and 300 plus members, more than 3,500 cards and works of art have been delivered to various nursing homes across the country. The high school student-founded and staffed program focuses primarily on providing its volunteers with community service experience, team-building skills, and leadership opportunities. For those looking to get involved, an interest form is available to fill out at letterforrose.org or at @letters.forrose on Instagram. Here, teens are able to either join an existing chapter in their area or start a brand new one. Within each chapter, one can choose from various job positions, including Chapter Head, Ambassador, Social Media Manager, Outreach Coordinator, and Transportation Coordinator. Every so often, team Zoom meetings are held for members of each chapter to discuss any new details, as well as spend time learning more about each other. However, in order to send a letter, one does not have to officially be a part of any chapter in particular. Instead, individuals can mail or email their letters to their nearest chapter or to the founders themselves.
As for sophomore Reagan Fortin, when she found herself scrolling through TikTok one day, she uncovered Letters for Rose through a video the program made promoting their efforts. After taking a closer look at what the organization stood for, Fortin decided she wanted to get involved in any way that she could. She filled out the interest form, putting her in contact with the founding team. From there, Fortin was able to take the necessary steps in starting a chapter in Chesterfield County. Acting as the Chapter Head, she then called upon her friends and fellow classmates by way of her personal Instagram account. Here, she recruited individuals through a simple post on her story. As of today, the local chapter is composed of 10 members from both Midlothian High School and Cosby High School. However, before they are up and running, the entire team is required to attend an introductory meeting to finalize the chapter. Once they receive the green light, the newly assembled team will be in a prime position to serve as a sense of hope in the community. "This is so important right now as the pandemic is, and continues, to impact much of the elderly population who are extremely lonely right now since many cannot see their families or loved ones," Fortin said.
Those seeking to become a member of the newly formed chapter here in the Midlo area, or simply offer their support, are in luck. Fortin and the rest of the local chapter remain in the process of looking for more individuals to join, eventually working to fill the rest of the leadership roles. Although, in order to hit the ground running when they can officially begin contacting local nursing homes and make their presence known on social media, their main focus lies in "finding people to start making letters and art so we will have plenty to send out when the time comes," Fortin said. In the meantime, Fortin looks forward to "having the power to potentially make a lasting impact" on the community that has brought her so much to be grateful for despite the hardships still looming overhead. 
About the Writer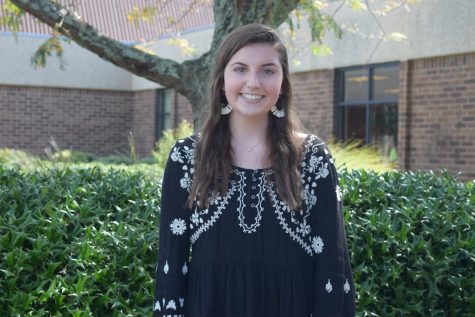 Bridget Tracy, Copy Editor
Bridget Tracy, Copy Editor, Class of 2022