Message from Dr. Abel
Midlo Principal's Message: December 9, 2020
Greetings, Midlothian Community. This is your principal, Shawn Abel, with your weekly message. This week's message is relatively short – consider it a present during the season of giving.  
Virtual Schedule and Resources
We will continue to update our Virtual Learning Hub with helpful links and information. For now, the hub includes our weekly schedule and an FAQ document.
What's up with Wednesdays?
Yes, it's true.  Wednesdays are not like our typical school days. However, please check out our schedule for Wednesdays as our faculty members are available in a variety of ways to support our students. Also, please encourage your student(s) to wake up at the same time and work independently on their school work throughout the day. A phenomenal skill to acquire is the ability to problem solve on their own and our Wednesdays are wonderful opportunities to develop this skill. Please click here to view a short audio explanation of our virtual school schedule, with a focus on Wednesdays. Remind your student to complete this form when they enter a class where they are receiving support from a teacher on Wednesdays. Only complete the form when they attend a Wednesday support session. Students can also access the form by typing in the following address: bit.ly/MidloSupport
Attention Juniors!
We are currently planning to administer the PSAT/NMSQT assessment on January 26, 2021. In order to plan for proper spacing, proctoring, and other needs, we are asking all juniors to complete this survey. We will communicate further details about the PSAT/NMSQT when we return to school after the holiday break.  
From the Career Center
GRASP/College Funding Group Scholarship program: join these community organizations for an evening of Q & A for students and parents about scholarships and how to access them. The event (virtual) is Tuesday, December 15 @ 5:30pm. Register to attend

HERE

.  

GRASP Appointments: meet with Midlothian's GRASP Advisor, Janet Andrews, on Tuesdays 10am – 4 pm (ongoing through April) to learn about college financial aid. 

Link here:

https://calendly.com/midlothian

.  And, if you need an alternate day, GRASP offers Wednesday evening (virtual) appointments. Call (804) 527-7772 to schedule.

Financial Aid Workshop

slideshow

: Did you miss last week's program with Belinda Hill, University of Richmond Financial Aid officer? Click on the slideshow link for Ms. Hill's overview of financial aid and college costs: navigating the FAFSA and CSS Profile forms, understanding the different aid available, and comparing college funding packages. She can be contacted for general questions about financial aid at [email protected]

FAFSA (Free Application for Federal Student Aid) form: complete the form which is available NOW. Apply here:

https://studentaid.gov/h/apply-for-aid/fafsa

 

Midlothian Scholarship List

: bookmark this list to find scholarship opportunities for graduating seniors. Our list is slim right now but will expand – beginning in January.

Toolkits for Students and Families

: check out this free resource from SCHEV (State Council for Higher Education in Virginia) which offers a 1-2-3 approach (prepare – apply – pay) to access college.

Looking towards "Life After High School?": check out these free online resources which offer career assessments, employment data, and help with planning a career pathway:  
It's a Wonderful Life!
Midlothian High School's fall play, "It's A Wonderful Life: A Live Radio Play," will start streaming on Friday, December 18th, at 7:00 p.m.! This is a FREE play for our community to enjoy. Based on the classic feel-good holiday movie, and filmed in the style of a 1940's radio broadcast, this play is sure to raise your holiday spirit. So grab those in your household, a cup of hot cocoa, and gather around the fire to watch and support our talented theatre students the weekend of December 18th! The link will be available to watch through Sunday, December 20th, at 11:59 p.m.!
Fundraiser opportunity!
Our IB student council is hosting a school-wide supply drive for The Daily Planet. This Richmond-based organization provides free COVID-19 testing, health and behavioral services, and so much more to the homeless and others in need. With their resources being stretched thin, and fewer people donating because of the coronavirus, this organization could use our help! We are inviting all members of our Midlo Community to drop off travel-sized items from the below list on Wednesday, Dec. 9 and 16 from 2:00 – 4:00 p.m. We are teaming up with the Library curbside pick up, and will be located near the student parking lot! Please consider supporting this very worthwhile cause.
Speaking of donations…
Several parents of our wonderful seniors are working together to organize fun raffles to motivate and lift the spirits of our senior students. Remember, this is the class that has missed out on spring sports and prom as juniors, and now so many other activities this fall and winter. Not to mention, no senior perks.  Parents are accepting donations all school year, donations can be spirit wear, face masks, anything Senior generic from a retail store, gift card donations, and good ole cash to the Venmo account. @Midlo21Seniors. Please email [email protected] if you have any questions or wish to share ways we can support our senior students.
In closing…
We are into our second week of virtual learning since returning from Thanksgiving break, and while I recognize this shift in teaching and learning is very challenging for everyone, please know that we are determined to work together to be as successful as possible. Together, as a Community of Excellence, we will be successful!
And as always, Go Midlo!!!!!!!
Previously shared information
Semester 1 Exams
Please note that Semester 1 exams, that were previously scheduled for Dec 15 – 18, have been canceled. The scheduled early release days will now become regular school days.
Chromebook Support
If you need a Chromebook or assistance with your Chromebook, please visit our CCPS Chromebook basics site for details and locations. For access to the site click here. Please be sure to revisit this website as the school division will update this site periodically.
Internet Connectivity Issues?
Students who need home internet access and participate in the National School Lunch Program can register for information from Comcast for free internet. Visit learnfromhome.ccpsnet.net to register. Families will need to complete the process with Comcast to receive this service. Please call the Midlothian HS front office (804-378-2440) if you need internet connectivity support, but do not qualify for the National School Lunch program. We will add your name to a need list, assess your situation, and provide the best support available.
Library Curbside Service
With our move back to virtual our school library is shifting back to Curbside Library. All the books your heart desires are now available for pick up every Wednesday from 2:00pm to 4:00pm and by appointment. Students can order books by going to bit.ly/midlocurbside.
How to have messages sent directly to your student
Today is the first day I have sent my weekly message to the student email address or phone number shared with me – opting in. If your student attempted to sign up to receive my phone/text or email messages and have not received today's message, please complete this form again to ensure we have entered your information correctly. Remember, students do not have a school-issued email with their id#@ccpsnet.net. That address only allows access to their google drives and related resources. If you have changed your mind and want to opt-in, use the same form by clicking here. Trust me, these messages are all the rage, don't be left on the outside looking in.
Mental Health Support
If you and/or your teen are in need of strategies or support for Anxiety or other Mental Health Needs, please visit the Mental Health Resources section of the Virtual Learning Hub. Our "Online Relaxation Room" is one resource your teen will find in the Midlo Suite Spot.
Yearbook Information
We realize everyone is eagerly waiting for the arrival of our 2019-20 yearbooks. The reason for our delay in issuing the 19-20 yearbooks is that our production factory was closed for a period of time and our limited yearbook staff continued to run stories and take pictures into the spring. Our updated goal, unfortunately,  is to issue our award-winning yearbooks by December, before winter break. Please check out our yearbook website for updates and thank you for your incredible patience.
A message from the Midlothian HS PTSO
The PTSO board would like to welcome any ​PTSO Member​ to our monthly meetings. We meet the second Wednesday of each month at 7:00 pm. Please email us at [email protected]​ ​if you would like to attend a meeting. At this time we cannot have open meetings. We will either meet over a Zoom meeting or limited number in person meeting. We also are looking for volunteers to help organize our events this year. Please email us at [email protected]​ to learn more about upcoming opportunities. Don't forget to enroll in the Community Rewards Programs. These local community partners donate a percentage of anyone's purchases to the MHS PTSO and reduces the need for additional fundraising.  
      Kroger Cares. Go to

www.kroger.com/communityrewards

and follow the steps provided to create an account and link it.  Enter 82948 in the "Find an Organization" search box.

      Publix Partners. Go to

www.publix.com

and Log in or Sign Up. Select "My Account" and select by scrolling the right arrow to "My Publix Partner." Enter "Midlothian High School" in the search box, select MHS and then select "Update".

      Amazon.  Offers 0.5% funds on eligible purchases to nonprofit organizations through the Amazon Smiles program. Amazon customers can register by logging onto

smile.amazon.com

. Enter your Amazon account information and then search Midlothian High School PTSO to select the organization.
Did your student miss an announcement?  
Fear not, our morning announcements can be found on our school website – just scroll down to the section titled, "Morning Announcements." For example, you can learn very important information, such as today is National Homemade Cookies day.
About the Contributors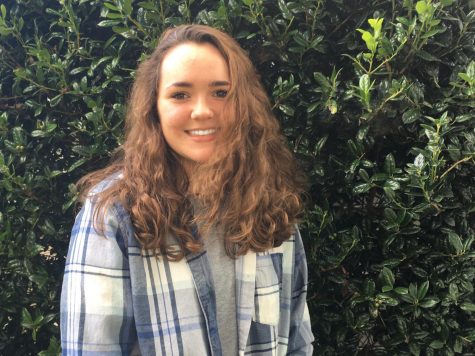 Callen Ziegler, Midlo Scoop Staff
Callen Ziegler, Class of 2023