Bilingual students at Midlo balance languages between home and school
2020 Bilingual Child Month
With Bilingual Child Month coming to a close, bilingual students at Midlo contemplate the ups and downs that come with speaking multiple languages. To support the growing population of students who speak both English and Spanish, the World Language Department at Midlo created a Spanish Heritage class, where students can share experiences of having to speak one language at school and one language at home. 
Midlo's Spanish Heritage class also teaches students the benefits that they have from speaking two or more languages. However, some students began noticing the benefits that come from bilingualism long before taking the class. "Being bilingual helps me to find a job, make friends, and be able to communicate with more people and listen to music in a different language," recounts senior Sharon Tamayo. Some students at Midlo even help their parents with English. "One time I think being bilingual helps [is] when I can translate something to my grandparents or to clarify something to my mom and help my dad with new words," describes freshman Keila Arias Ramos. 
"When you learn a new language, you need to try so hard that you forget about the other languages that you already learned before. Most of the time you get everything mixed up, and it's annoying when you need to focus on just one language," details junior Yennifer Duarte, describing the difficulty that comes with constantly switching between languages. 
While Midlo does have a large number of students who speak English and Spanish, many bilingual students are fluent in other interesting languages as well. For example, sophomore Sarah Matsunaga is fluent in both Japanese and English. Matsunaga's first language is Japanese, and she learned English when her family moved to the United States from Japan when she was eight. Matsunaga expresses that she finds it difficult to still practice her Japanese skills when she has to balance schoolwork and extracurricular activities. "Learning two languages at the same time is hard because I need to focus on both together. I study Japanese on the weekends so that I don't start forgetting, but it's hard when I have to do homework from school too," elaborates Matsunaga. 
Learning and speaking more than one language makes life difficult, but it also adds a level of pride that only comes from bilingualism. Happy Bilingual Child Month to all bilingual students at Midlo!
Leave a Comment
About the Writer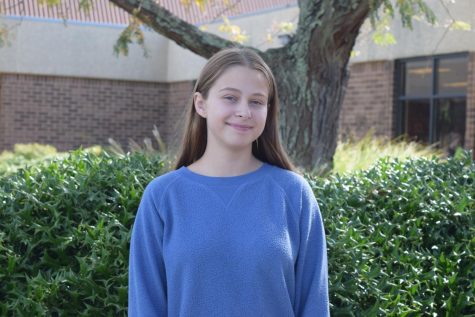 Ava Gay, Midlo Scoop Staff