Garden Glow illuminates Maymont
The Maymont Foundation hosts its annual Garden Glow event.
Open to the public on Friday, October 23, 2020, and lasting until Sunday, November 8, 2020, the Maymont Foundation sponsors its annual Garden Glow for all ages. From 6:00 p.m. to 10:oo p.m. each night, Maymont's spectacular lighting event allows guests to experience one of Richmond's hidden gems through an interactive experience unlike any other. 
Operating in a new location differing from previous years, Maymont's Garden Glow showcases  a lavish Victorian country estate high above the James River. Initially owned by James and Sallie Dooley, the sprawling 100-acre property fell into the hands of the city of Richmond after the passing of Mrs. Dooley in 1925. However, unable to restore the land to its fullest potential, the Maymont Foundation took over as the sole owner in 1975, managing the estate ever since. Known for its esteemed Japanese gardens and nurturing wildlife habitats, Maymont has charmed its way into the hearts of many locals who have helped support the non-profit organization throughout the years.
With its spectacular lighting event making a grand return, now more than ever, Maymont serves as the perfect getaway during times of isolation still lingering within society due to Covid-19. Made possible by the event's gracious volunteers, Garden Glow follows all necessary protocols set in place by the state of Virginia, including socially-distanced lines and mask requirements when within six feet of others. 
Entering through Maymont's Historic Estate site on 1700 Hampton street, guests must undergo check-in, as pre-purchased tickets for specific time slots prevent instances of overcrowding that may jeopardize the safety of others. Greeting arrivals, a large gathering area complete with a souvenir shop, variety of food trucks, and color-changing seating allows groups to enjoy a worry free night in the fresh autumn air. When ready, the estate's grand fountain, equipped with vibrant lights, marks the start of the self-guided Garden Glow route that weaves around Maymont Mansion and through its surrounding Italian gardens. Along the way, hundreds of light installations illuminate the path, displaying the area's marvelous historic architecture and breathtaking scenery. On the lawn in front of the stately mansion, guests can even control the lights by way of stepping onto weight-bearing platforms, offering an immersive experience. To make the most of the experience, each person has the opportunity to take as many laps around the jaw-dropping estate as they desire.
With most nights selling out, all proceeds benefit the Maymont Foundation, ensuring that memorable events, such as Garden Glow, can take place in the future. Tickets cost $12 for adults, $8 for children, $10 for members, $7 for children of members, and free for those under 2 years of age, so book now to guarantee a spot. 
About the Contributor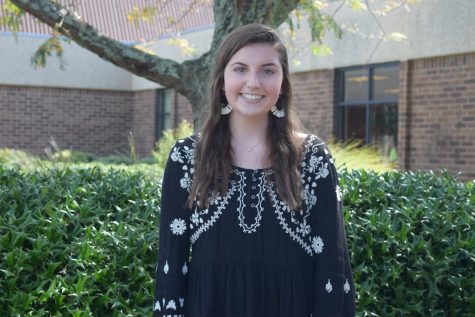 Bridget Tracy, Copy Editor
Bridget Tracy, Copy Editor, Class of 2022