Midlo Scoop staffers show off their furry companions
Spotlight on: Midlo Scoop Pets
While the world stays at home, sheltered from the COVID-19 pandemic, families find themselves constantly bonding with their furry friends. Ten members of the Midlo Scoop Staff share their beloved pets and would like to spotlight their lovable traits. From typical pets, such as cats and dogs, to unexpected animals, like chickens, the Midlo Scoop Staff's pets are one-of-a-kind.
Mrs. Jackie Tully (Midlo Scoop adviser):
Rocco LOVES to follow his mommy around the house. He enjoys walks, pontoon rides, and carrots. He does not play well with others, so he doesn't have many friends, but he is content to find his place in the sun to rest and live his best life as official dog of the house.
Katherine Krievs (Midlo Scoop Editor-in-Chief): 
Henry is a 13-year-old Goldendoodle who loves walks, Fritos, and the snow! He knows how to do a lot of different tricks, and his favorite tricks happen at the dog park; he can do the entire obstacle course, which includes hurdles and a tricky ramp. Even though he's on the older side, he's young at heart and doesn't tire easily. 
Maddie Burke (Midlo Scoop Editor-in-Chief):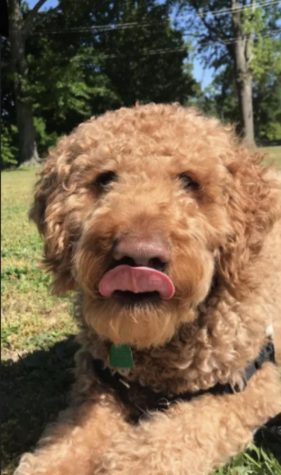 I have a Goldendoodle named Tucker. He has curly hair, weighs 70 pounds, and was born in Maine. He is super friendly and loves hanging out with people and small dogs. I love taking him on walks, but he usually likes to stop walking in the middle of the path. His favorite activities include sleeping and going on walks/car rides.
Zinzi Symister (Midlo Scoop Copy Editor):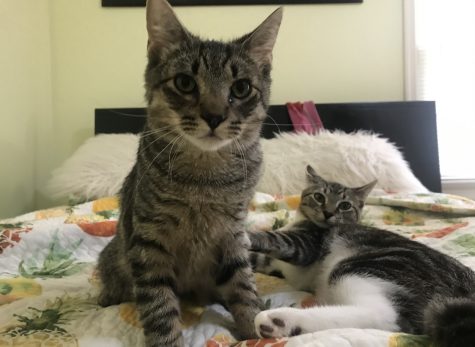 We got the kittens a month ago from RAL. Originally, we were only going to get Cinderelly, but we didn't not want to separate her from her brother, Gus. Gus was very shy at first and did want to be around us, but he eventually grew out of that. They both love attention and are my best friends.
Bridget Tracy (Midlo Scoop Copy Editor):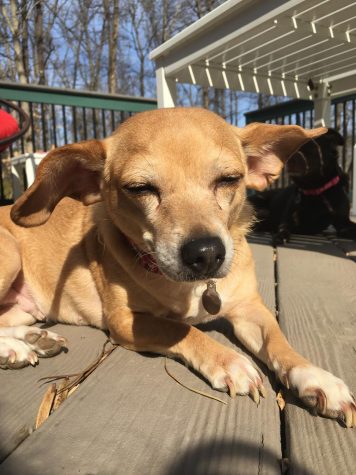 Lexi is about 8 years old, but she still acts very much like a puppy, as she has loads of energy. My family often jokes that she adopted us rather than the other way around because the minute she saw my sister and me,  she ran right for us and has never left our side since. She loves kids and is extremely protective over both my sister and me. My family adopted Molly some years after Lexi, and she loves to snuggle. If there is a blanket laying out, Molly is sure to be right there on it. She is definitely the much more relaxed dog, as Lexi loves to play all day, and Molly enjoys cuddling up in her dog bed where it is more calming.
Quinn Downing (Midlo Scoop Staff):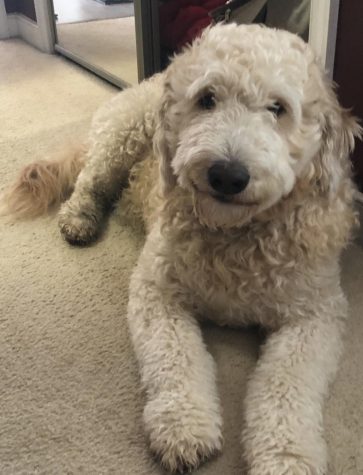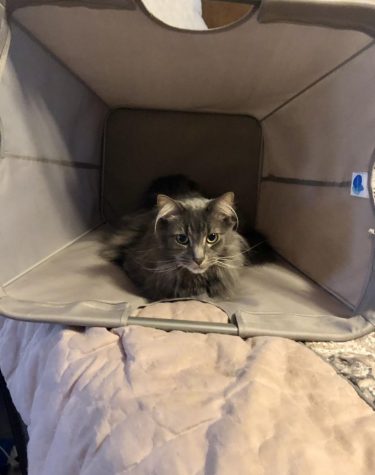 Spring is scared of everything, and loves to eat scrambled eggs. Toby only likes to plays fetch and wouldn't care it we left him, as long as he had his ball
.
James Galloway (Midlo Scoop Staff):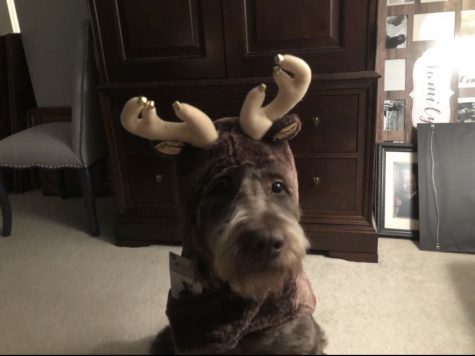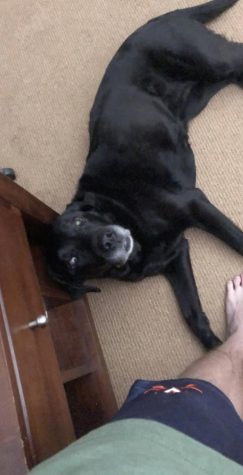 Jazz is three years old, extremely playful and runs everywhere she goes. [She is] very clumsy and has been known to break a few things. Bella, ten years old, [is] also super playful, wants hugs 24/7, and can become a guard dog in a second if there is a squirrel in sight.
Ava Gay (Midlo Scoop Staff):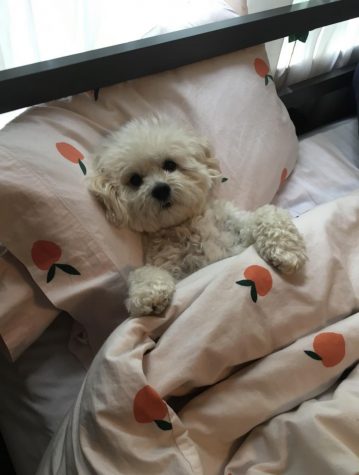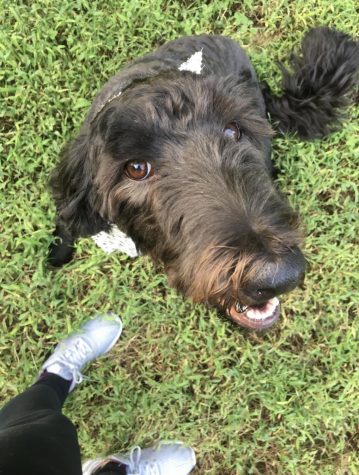 Bunny's full name is Bunny Lebowski McDirtypaws Popcorn Gay. My little sister was cut off from giving her anymore middle names after Popcorn. Mollie's full name is Mollie Ob-La-Di Ob-La-Da Gay; she is named after a Beatles song, same with our fish Desmond. The turtle Buddi is spelled with an "i" because you can't tell the gender of turtles until they are a couple years old, so we named her Buddi because I got her when I was 8, and I wasn't thinking about her gender.
Megan Larose (Midlo Scoop Staff):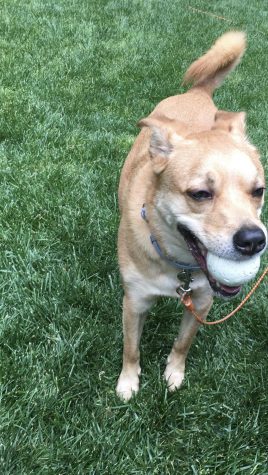 My dog Cooper loves to play fetch, and my dog Lucky loves to cuddle.
Kyle Reeder (Midlo Scoop Staff):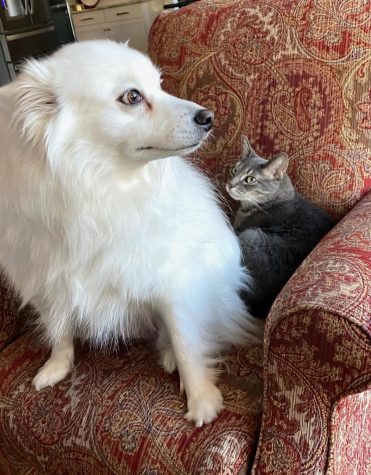 We adopted Spike from a pet store from when we used to live in Ohio. I was in 3rd grade when we got him, and he's been part of our family for about 8 years. In 2019 we adopted Pumpkin from the SPCA, and Rex from a pet store around 2014. There is never a boring moment in our house because the pets are always running around and playing with each other. Spike and Rex love to run around and play with each other, but Pumpkin usually prefers to sleep. Sometimes we joke that Spike acts as our doorbell because you don't even need to be on the front porch, and he'll already start barking. The funny thing about Spike is he doesn't like the water. Every year, when we bring him to our family cabin, he likes to walk just until his feet are submerged and drink the water, but he never goes swimming.
Reagan McAdams (Midlo Scoop Staff):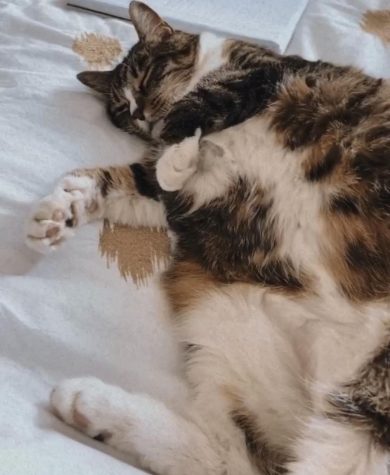 Penelope loves to snuggle with all people who are willing, and she loves new people (because new people means more snuggles); when she has lots of energy, she will run circles through the house and enjoys playing with her toys (especially her stuffed avocado); she is a food and treat fanatic.
Leave a Comment