Pfund, Murfee, and Boese earn 4th quarter Employee of the Month honors
Midlothian High Employees of the Months of March, April, and May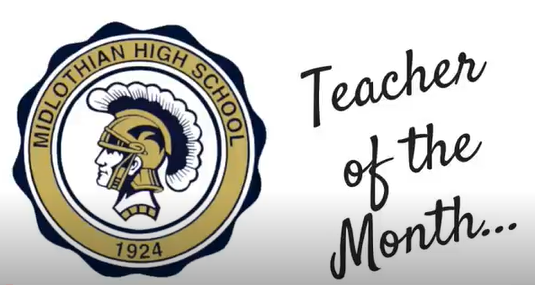 On Tuesday, June 16, 2020, Midlothian High Assistant Principal Mr.  Steve Lagow announced the Employee of the Month honors for the months of March, April, and May.
Ms. Emily Pfund, who teaches English, earned the nod for the month of March due to her willingness to pitch in with enthusiasm whenever necessary at Midlo, including her work with Midlo Cheer, curriculum instruction and remediation, and the Inside-Out program. (She also is TikTok famous!)
Midlothian Librarian Mrs. Heather Murfee received recognition for the month of April due to her leadership, creativity, and ingenuity with video production. In addition to the wonderful things she does with the Midlo Library, Mrs. Murfee recently played an integral role in the production of the virtual awards assemblies and graduation ceremonies and always is willing to teach others her technology skills as well.
English teacher and Senior Class Sponsor Ms, Elizabeth Boese earned the May Employee of the Month status due to her ability to think outside the box regarding the Class of 2020 end-of-year festivities, working hard to help make the individual graduation ceremonies personal and special for Midlo's seniors.
Congratulations, Midlo Employees of the Month!