DECA SLC candidates surf towards success at Virginia Beach
From February 28-March 1, 2020, Midlothian High School's DECA State Leadership Conference (SLC) qualifiers traveled to Virginia Beach, Virginia, to compete in the annual state level conference. After receiving high scores in their tests and role plays at the District Leadership Conference (DLC) back in January, these students came out prepared to represent their school well at the next level.
On Friday morning, the students met at Clover Hill High School to board a charter bus to the Holiday Inn Express, their home for the weekend. After receiving treat bags, prepared by DECA sponsor Mrs. Carolyn Manheim, the students greeted their chaperones: Ms. Lillian Ellick, Dr. Shawn Abel, and Mrs. Mandi Abel. Dr. Abel commenced the trip and called roll to ensure all students were aboard the bus, and the journey toward the widely anticipated DECA State Leadership Conference began, including qualifying students, who chose to take their talent to the next level: Jackson Abel, Braden Berger, Drew Blankenship, Alex Bretana, Daniel Brishke, Jake Childers, Derek Christmas, Adrian Cox, Ryan Funderburk, William Galleher, Seth Grossman, Matthew Hunter, Lexi Labott, Vic Lin, Blake Longest, Ashley Manheim, Maggie Monroe, Alex Neofotistos, Aidan Novak, Anosh Pithawalla, Ethan Smith, Anna Sommardahl, Thomas Rose, Kylie Roussell, Abigail Shepherd, D.J. Veliadis, Justin Varela, Preston Willett, and Ben Wrobel.
DECA focuses on marketing, so any student who joins DECA must be enrolled in a business/marketing class in accordance with Virginia DECA rules. The club provides an opportunity for students to experience life as an entrepreneur, an inventor, a marketing planner, and many other roles they may experience in the business world following high school. At DECA competitions, like SLC, the students face difficult tasks involving some sort of business/marketing problem, and they create plans to solve the problem. The issue could be anything from how to bring in more customers to a store on a day that lacks its usual congestion, to how to compete with a similar store in the same shopping center; the issues are endless.
Upon arrival at the beach, the students spent time preparing for their events, as well as chatting, playing games, and exploring the beach in their free time. Ben Wrobel, Vic Lin, Adrian Cox, and Ryan Funderburk tested out the local cuisine, enjoying a nice lunch at Guads Mexican Restaurant.  In the evening, the students congregated with their chaperones for dinner at Jumpin Shrimp, where they enjoyed traditional American favorites, such as sandwiches and pizza. At the restaurant, they received their name tags, featuring ribbons awarding the Midlothian High School DECA chapter for its recognition as a Platinum Chapter, Star Chapter, and Super Star Chapter. Dr. Abel then presented students with their individual role play times to help them coordinate when they should leave to board a bus to the convention center. Due to a Bernie Sanders rally going on at the time in the city in preparation for Super Tuesday, multiple roads were closed, causing students to have to leave for their events roughly an hour and a half in advance in order to arrive at the proper time.
The following day, students anxiously arrived at the convention center for their much anticipated role plays. Sports and Entertainment Marketing Series competitor Jake Childers shares, "I was really anxious going into my role play, but I enjoyed discussing my topics with the judges. DECA SLC is always a great experience, and I am lucky to have been able to attend now twice in a row." After hours in the convention center, the students enjoyed pizza, sandwiches, and pastas at Dough Boys, and then met again in the convention center for the first awards ceremony, which recognized top scoring competitors in each event.  The next day, the students awoke early to meet at the convention center for the annual Senior Breakfast, where Lexi Labott and Ashley Manheim enjoyed cinnamon rolls and hot chocolate to give them an extra boost after a long weekend. DECA students then concluded the trip at the awards ceremony, which announced all qualifiers for the next level of competition, the International Career Development Conference (ICDC).
Congratulations to the following state finalists, who received medals in their events for top scores in tests and role plays across the state:
Daniel Brishke, Automotive Services Marketing: Role Play
Abigail Shepherd, Hotel and Lodging Management: Role Play
Ashley Manheim, Quick Serve Restaurant Management: Test
Drew Blankenship, Accounting Applications: Test and Role Play
Vic Lin, Accounting Applications: Test
Ethan Smith, Accounting Applications: Role Play
Ryan Funderburk, Business Finance: Test
A special congratulations to the three students who have qualified to represent Midlothian High School at the International Career Development Conference (ICDC)  in Nashville, Tennessee:
Preston Willett, Quick Serve Restaurant Management
Abigail Shepherd, Hotel and Lodging Management
Drew Blankenship, Accounting Applications
Leave a Comment
About the Contributor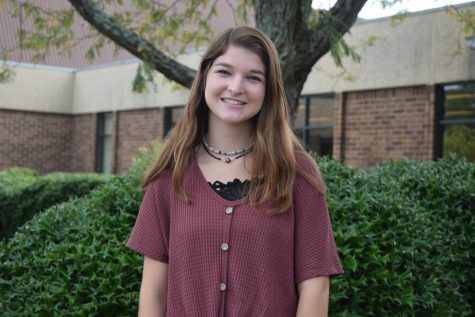 Ashley Manheim, Midlo Scoop Editor-in-Chief
Ashley Manheim, Editor-in-Chief, Class of 2020