Midlo prepares for Valentine's Day celebrations
Hang on for a minute...we're trying to find some more stories you might like.
With Valentine's Day just around the corner, Midlo students are once again reminded of the holiday's traditional meaning honoring St. Valentine. For many people, the event represents the expression of love, yet everyone finds a different value in the holiday. Like millions of others around the world, Valentine's Day gives both the students and the faculty of Midlo the opportunity to express their appreciation to their loved ones. From watching cinematic features to going out to dinner, the Midlo community shares their special plans for the heartfelt holiday. 
"My Valentine's Day plans consist of my mom and I going out to dinner together and then watching a movie that is in theaters!" – Kendall Singh
"I have a dinner date planned at the restaurant Crab Louie's, which I am looking forward to." – Dr. Bowes
"I am going to watch the new movie The Turning with a group of my friends after we eat at one of my favorite restaurants, Buffalo Wild Wings." – Ryan Lewis
"On Valentine's Day, I am taking my 14 year old daughter out on a specially planned dinner date." – Officer McDonough
"Domino's makes heart-shaped pizzas on Valentine's Day, so my plan is to get one of those to eat." – Charlotte Alums
"My boyfriend and I are both getting pedicures and then heading to Sedona TapHouse to have dinner. Afterwards, we plan on going back to my house to make homemade fondue together with my sister and her boyfriend." – Olivia Ibanez
"This Valentine's Day, I am hosting a Galentine's party for all of my closest friends! It should be really fun." – Sarah Arnold
"Typically, I do not believe in Hallmark-themed holidays. Instead, I try to show my dear wife love each and every day of the year. You should dedicate every day to showing your appreciation to someone." – Dr. Shawn Abel
"I will be spending my Valentine's Day traveling up to New York City with my family since we have a nice long weekend." – Max Atzinger
"I have arranged plans to take my long time girlfriend to Panera. I also bought her a gift that she had been wanting for a while now, so I cannot wait to give it to her!" – Reed Bertenshaw
"My boyfriend and I are hanging out together and then going to the new Sonic the Hedgehog movie that is coming out in theaters on Valentine's Day." – Morgan Meyers
"On Valentine's Day, my boyfriend is cooking me dinner at his house and then we will probably pick a few movies to watch." – Paige Durrette
"Hanging out with my mom is what I am doing this Valentine's Day!" – Aidan Stevenson
About the Contributor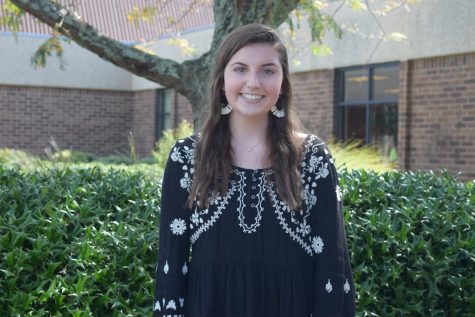 Bridget Tracy, Midlo Scoop Staff
Bridget Tracy, Class of 2022