Midlo Theatre introduces the Into the Woods cast
Hang on for a minute...we're trying to find some more stories you might like.
On January 27, 2020, the Midlothian Theatre Department released the Into The Woods cast list. The musical tells the story of a baker and his wife, who attempt to conceive a child, but a witch has cursed their family, making it impossible for them to have a baby. The couple must complete a series of tasks in order to break the curse. Along the journey, they meet characters who attempt to help them overcome various obstacles and lift the curse before it is too late.
Into the Woods Cast
Narrator: Matt Smith
Cinderella: Nikki Rizzo
Jack: John Sheldon
Milky White: Mason Chandler
Baker: Noah Burch
Baker's Wife: Cece Luther
Cinderella's Stepmother: Nicole Dudley
Florinda: Lily Gentile
Lucinda: Caroline Grabill
Jack's Mother: Anna Grillot
Little Red Riding Hood: Anna Ganz
The Witch: Lara Brinkman
Cinderella's Father: Nick Steele
Cinderella's Mother: Caitlyn Liu
Mysterious Man: Jake Khatcheressian
Wolf: George Welch
Rapunzel: Brooke Ward
Rapunzel's Prince: Drew Duren
Granny: Sarah Kemp
Cinderella's Prince: Patrick Hurt
Steward: Matt Babb
Giant: Anya Ruzicka
Sleeping Beauty: Elizabeth Wilson
Snow White: Morgan Mishke
Solo Dancer/ Dance Captain: Lauren Schmidt
Children: Skylar Caddell and Colin McGill
Ensemble: Nora Carlucci, Rachel Clevinger, Ryan DaGrava, Harper Gordon, Molly Jarvis, Sophie Rose Marusco, Kat Moser, Lindsey Radcliff, and Sydney Wilborn
About the Writer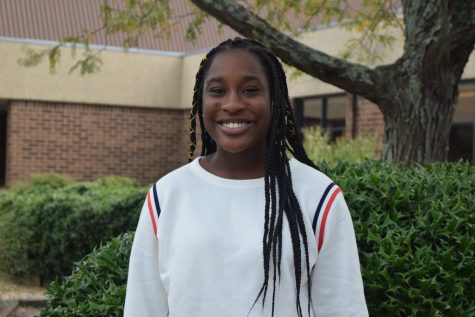 Zinzi Symister, Midlo Scoop Staff
Zinzi Symister, Class of 2021