The Midlo community reminisces on the impact left by Kobe Bryant
Basketball star Kobe Bryant held a legacy in the sports world for over twenty years. Bryant's presence on the Los Angeles Lakers acted as a common inspiration for individuals from all over the world. As a unifying force in the game, Bryant worked hard to transform the standard conception of the traditional basketball player. Bryant left the NBA in 2016 with the retirement of his jersey number, 24, taking place shortly after. On January 26, 2020, at the age of forty-one, Bryant, along with his daughter Gigi and seven others, tragically passed away due to a helicopter accident. Once the heart-breaking news spread, fans from throughout the world struggled to express their love, admiration, and grief in the darkest of moments. Their great strength shone through in the form of a mass gathering at the Staples Center, where Bryant played twenty seasons, and heartfelt messages spread across social media platforms. The Grammy Awards, held at the Staples Center, acted fast in preparing a tribute to the fallen basketball star.
Both on and off the court, Bryant served as a role model, not only as an athlete, but also as a model father to his four daughters, Natalia, Bianka, Capri, and Gianna (Gigi) Bryant, who passed away alongside her father in the crash, at only thirteen years old. She was the reason that Bryant found a new love for the sport to which he owed so much, as she herself was on the path to greatness in the basketball realm. Her shared love for the competitive game offered Bryant a new perspective giving him the opportunity to transform from a player to her coach. Beside Bryant's fatherly duties, he also took part in philanthropic efforts through the creation of the Kobe Bryant China Fund that acted as a way to raise money for various programs in both China and the United States. Even after Kobe Bryant's retirement, he continued to break the mold of retired athletes through his involvement in business organizations and mentoring youth basketball players. Visit the New York Times for live updates in regards to the accident's investigation and further recognition events.
After having a few days to digest the tragic passing of Kobe Bryant, the students and faculty at Midlothian High School used this time to reflect on how the athlete has shaped them over the years. From fellow basketball players to coaches to everyday Midlo community members, individuals shared their stories surrounding Bryant's inspirational journey. 
"Kobe Bryant definitely inspired me since his passion for the game of basketball and amazing work ethic were two aspects that stood out to me on all levels. He never failed to put in lots of time to the game, and he had the ability to further inspire a whole new generation." – Coach Jarhon Giddings, Midlo Boys Basketball Head Coach
"Kobe was without a doubt my favorite player throughout my childhood, so he became the main reason I fell in love with basketball because his work ethic, desire, and perseverance is relatable to all kids who aspire to be make it to his level of success. His drive for competition resonated with me when it came to sports, and I strongly feel he epitomizes the meaning of competitiveness." – Coach John Pruitt, Midlo Boys Basketball Assistant Coach
"I have always tried to live by his saying, 'You have to keep going. Put one foot in front of the other, smile and just keep on rolling' because whenever my team is down during a game, I refer back to it for strength that helps me keep on going. Also, my jersey number is 24 too, which will constantly serve as a reminder to me to stay strong just like Kobe always did." – sophomore Ellie Herndon, Midlo Girls Basketball Player 
"I held mass amounts of respect for Kobe Bryant as a player because he stood out to me out of all NBA players. Hearing about not only his death, but the death of his daughter really impacted me because she was so young. Every time I shoot a basketball during a game, I never fail to say 'Kobe!'" – junior Bridget Millacci, Midlo Girls Basketball Player
"Watching Kobe play was always amazing, and it definitely hurt to see both him and his daughter have their lives taken. He has just started his life after basketball, so it was sad to not get to see how his life would have played out off the court. He was an icon that touched a lot of people."  – senior Carson Parrish, Midlo Boys Basketball Player
"Kobe was a great loss for the game of basketball because he was an insightful mind that could break down players like no other person. He inspired all across the nation with his abilities to be a great athlete and by setting an example as a figure." – Midlo sophomore Dalton King
"Growing up in high school, I always looked to him since we both graduated around the same time as each other. Seeing what he was able to accomplish always amazed me, and everyone always said he was the remixed Michael Jordan because of what he brought to the table. Kobe was fun to watch, but his ability to speak multiple languages  transcended people's view on athletes. May the hashtag "girl dad" live on because he always did so much for his family through his courageous work ethic, attention to detail, and commitment to make everyone around him better." – Mr. Darnell Erby, Midlo School Counselor 
Midlo students and faculty are among the millions of people currently mourning the loss of a true hero. The entirety of this shell-shocking event has shed light on the importance of finding value in every moment and never taking for granted the people closest to you. May the name Kobe Bryant live on for all to remember, not only for his athletic talent, but for his goodwill and endless determination that have undoubtedly made a dent in the lives of fans of all ages.
Leave a Comment
About the Contributor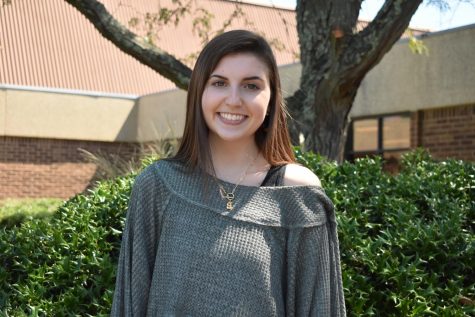 Bridget Tracy, Editor-in-Chief
Bridget Tracy, Editor-in-Chief, Class of 2022

Senior Bridget Tracy has been on staff for three years, and continues to write high-interest articles,...