Early decision students set their sights on future schools
Early Decision: VT, UVA, W&M, VMI
Beginning around December, Midlothian High School seniors' excitement for their early decision application results come to fruition as they receive responses from some of their most desired schools, including: the University of Virginia (UVA), the College of William & Mary (W&M), the Virginia Military Institute (VMI), and Virginia Tech (VT). After four years of hard work, students highly anticipate these responses, constantly refreshing emails and information portals to view the decision that will change the course of their lives. This year, UVA offered an early decision application to students, an option never before available at this university, stirring up lots of interest in the numerous students who love this school. Last year, Virginia Tech experienced a significantly larger number of students accepting their offers than normal, creating fear in some current seniors that the institution would cut down on their acceptances this school year. VMI welcomes some of the most dedicated students in the country, famous for its rigorous military program. William & Mary is known for its small acceptance rate, so many students apply during their first round of early decision to secure a spot in this highly rated and well-known school.
Midlo senior Alison Vonderharr received an early decision acceptance from the University of Virginia, recognized as one of the best colleges in the country. Following in her parents' footsteps, as they both attended UVA, she first created a "special connection" with this school while visiting Charlottesville periodically throughout her early life. Vonderharr fell in love with the campus, known as the "grounds," and she also expressed UVA as a match for her, commenting, "UVA has all the aspects I want in a university. Hence, it was the obvious choice." As the fall of 2020 comes closer, she acknowledged her building excitement for the "amazing academics, involved community, strong sports teams, and the gorgeous grounds." Numerous other students decided to apply early action to UVA, hoping for a positive outcome when the news comes in late February.
Virginia Tech welcomed roughly 15 new Midlothian early decision applicants to its institution for the 2020-2021 academic year. Derek Christmas will study at the Pamplin Business School in the fall, a dream come true, as he has taken many business classes and competed in business competitions throughout high school. Hunter Beck will also join the Hokies as a Property Management major, sharing his "unwavering excitement for football games and student life in Blacksburg." Claire Mosher can't wait to travel to Blacksburg in the fall as a psychology major, sharing, "Go Hokies!" Best friends Katie Siegel and Mary Courtney Hettinger felt ecstatic to receive their early decision acceptances, both planning to go random in their roommate search due to their excitement to meet many new people.
VMI took multiple Midlothian High School students, including Adrian Cox, a Business and Economics major. Cox chose VMI for its "prestigious academics and ROTC program." Zach Biller will attend the military institute next year as a Business and Economics major as well. He expressed his excitement for "being a part of a brotherhood, something bigger than [himself]." Noble Dodge will major in psychology in the fall, and Braedyn Rose will attend VMI as a Civil Engineering major.
Seniors Annabel Schepker and Amanda Jennings will attend the College of William & Mary in the fall after accepting their early decision offers. Schepker felt ecstatic for her acceptance to W&M because the "community there is so friendly, and it was [her] absolute number one choice." She can't wait to go to Williamsburg and for her classes to begin, so she can "meet new people, find a great friend group, and try out new things in the form of clubs" as a kinesiology major. Jennings also looks forward to her future at W&M in the fall. As another one of the top institutions in the country, these students' hard work and dedication throughout their four year in high school paid off, as they received their acceptance letters.
As the school year continues, seniors look forward to a compilation of emails, letters, and announcements from their most anticipated colleges, sealing their next four years in their favorite places.
About the Writer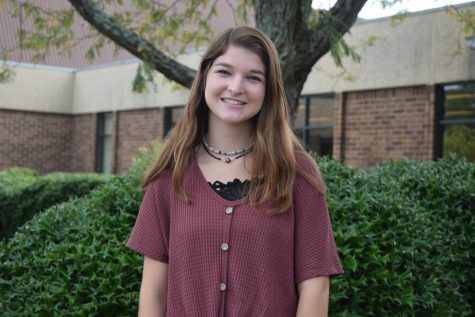 Ashley Manheim, Midlo Scoop Editor-in-Chief
Ashley Manheim, Editor-in-Chief, Class of 2020