Midlo families share their favorite holiday recipes
Families worldwide celebrate the holidays with traditional dishes that perfectly encompass family heritage and culture. Ava Craft's family hails from Portugal, so growing up, Craft ate a multitude of authentic Portuguese cuisine. One of her favorites, Bacalhau à Brás, is suitable for for lunch, dinner, or, on special occasions, brunch. Craft and other Midlothian students share their favorite holiday recipes.
Bacalhau à Brás (recipe from Ava Craft):
Ingredients:
1 pound dried salt cod
7 tablespoons olive oil, divided
1 ½ pounds russet potatoes, peeled, cut into matchstick-size strips (about 6 cups)
1 large onion, thinly sliced
1 bay leaf
8 large eggs
½ teaspoon of salt
½ teaspoon of freshly ground black pepper
4 tablespoons chopped flat-leaf parsley leaves, divided
18 black olives
Directions:
Rinse the fish and place it in a bowl. Add enough cold water to cover the fish. Chill it overnight, changing the water intermediately.
The next day, drain the fish and transfer it to a large saucepan. Cover it with water, bring to a boil, and simmer until fish flakes easily (which should take about 15 minutes). Drain and cool the fish. Flake the fish, discarding any bones.
Heat 4 tablespoons of olive oil in a heavy large nonstick skillet over medium-high heat. Add potatoes in batches and saute until potatoes are crisp and golden, this should take about 7 minutes a batch. Transfer the potatoes to paper towels to drain.
Add 1 tablespoon of the oil to the same skillet. Add the onion and bay leaf and saute until golden, which should take about 15 minutes. Discard bay leaf once done. Lower the heat to low. Then, add the remaining 2 tablespoons of olive oil to the onion slices in skillet. Mix in the fish and potatoes. Whisk the eggs, the ½ tablespoon of salt, and the ½ tablespoon of pepper in a large bowl to blend. Add the egg mixture and 3 tablespoons of parsley to fish mixture in skillet. Cook over medium heat until the eggs are softly set, stirring occasionally, about 3 minutes. Transfer the eggs to a platter. Garnish with black olives and the remaining 1 tablespoon of parsley.
Santa Bread (recipe from Ava Gay):
Ingredients:
4 cans of crescent rolls

2 egg whites

Red food coloring

2 peppercorns (for the eyes)

Kitchen shears (scissors)

Pastry brush
Directions:
Preheat oven according to crescent roll baking directions

Using the picture, form the dough into the shape of Santa's round head, then shape the hat

Use the cooking shears to make the edge of the hat and the ball on top textured by cutting the dough. Use the rest of the dough to make his round nose and then twists strips and start adding them to make the beard

Use the pastry brush to coat everything in a thin layer of egg whites

Add red food coloring to the remaining egg wash and add red to his hat and then make his cheeks and nose rosy

Bake according to directions, but it may take longer than directions state. 
Cathedral Window Cookies (recipe from Edith Upperco):
Ingredients:
1 12-ounce package of chocolate chips (milk, semi, or dark chocolate, whatever you prefer)

2 eggs, well beaten

1 large package of colored mini-marshmallows

6 tablespoons of powdered sugar
Directions:
Melt chocolate chips in large double-boiler

(If you do not have one, you can carefully set a slightly smaller pot in a large pot. The pots need to be large overall.  Put enough water in the bottom pot so the top pot floats just a little. Place the chocolate chips in the top pot. Turn the burner on medium and tend the pot the entire time the chips are melting. Stir gently and be patient.)

Once the chocolate is melted, add the beaten eggs and mix well. (Be careful: if the heat is too high you will end up with scrambled eggs in your chocolate!) Remove the top pot from the bottom pot and set it on a cutting board or a thick towel. Turn off the burner.

Add the package of marshmallows to the chocolate/egg mixture and use your spoon to lift them in the chocolate, not beat them. The idea is to coat them and mostly preserve the shape of the marshmallows. They will melt just a little bit. Let the mixture stand 5 minutes.

Tear off three large squares of aluminum foil. Sift 1 tablespoon of powdered sugar over each square of foil. (Don't make a lot of breeze in the kitchen!)

Place 1/3 of the chocolate/egg/marshmallow mixture on each square of foil. Let stand 10 more minutes.

Sift another 1 tablespoon of powdered sugar over each "blob" of goodness. Shape each one into a roll about 2-3 times the diameter of a quarter and roll it up in the foil.

Store in the refrigerator for several hours. Unroll the foil and cut the roll crosswise into pieces about 1/4" thick. Arrange slices on a pretty plate to present your cathedral windows! (remaining rolls keep well in the refrigerator)
Leave a Comment
About the Writer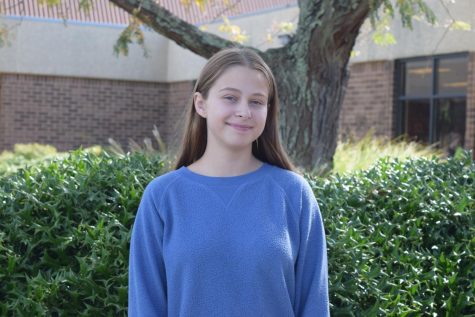 Ava Gay, Midlo Scoop Staff