Midlo reflects on holiday movie classics
Hang on for a minute...we're trying to find some more stories you might like.
As the holiday season approaches, Midlothian High School students find themselves immersed in holiday classics, such as: Elf, The Santa Clause, and National Lampoon's Christmas Vacation. While temperatures drop, movie viewing levels rise, for these classics provide warmth and comfort to all. Midlo students share their favorite cinematic features of the season, including films that contain everything from a heartfelt message to comical elements.
"The classic holiday movie Elf is my favorite to watch since every scene is filled with comedic moments, like when Buddy eats all of the outrageous foods." – Carter Richardson
"The Polar Express is undoubtedly my favorite since it has become a fun tradition in my family to watch it together each year." – Kwadjo Tannor
"My favorite holiday movie is Santa Clause with Tim Allen since it is packed full of funny moments. It has become a personal tradition for me to watch it during the Christmas season." – Caroline Pickels
"I love the movie Christmas Vacation because the family dynamic is hilarious, so it really boosts my mood!" – Emma Precopio 
"The movie Elf would have to be my favorite movie to watch during the holidays because its funny moments fill me up with holiday cheer." – Elaina Miller
"The Grinch would have to be my favorite holiday movie. Towards the end, it expresses the true meaning of Christmas, which never fails to put me in the perfect holiday spirit." – Madeline Maloney
"Christmas Vacation is hands down my favorite movie for the holiday season. The entire movie is packed with funny moments that always make me laugh, no matter how many times I've seen it." – Nick Walker
"Definitely A Christmas Story since I have so many family memories tied to it. Every year, we have a tradition on Christmas Eve to sleep downstairs and watch the 24 hour marathon of it on TV, so we always end up falling asleep to it." – Lydia Robb
"I love to watch Elf because the actor Will Ferrell, who plays Buddy, never fails to bring his comedic brilliance across the screen, which makes me laugh." – Cameron Penn
"My favorite holiday movie is The Grinch! I like to watch the new live-action version over the old animation one since it incorporates modern jokes that never get old." – Ainsley Bryant
"Holiday in Handcuffs would probably be my favorite because it puts lots of joy into the holiday season, while also bringing my family closer together with its Christmas spirit. " – Max Atzinger
About the Contributor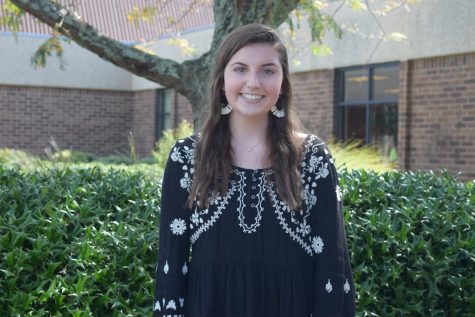 Bridget Tracy, Midlo Scoop Staff
Bridget Tracy, Class of 2022