Midlo Celebrates Virginia DECA Day
Annual Virginia DECA Day 2019
On Friday, November 8, 2019, during Midlo Morning 0, Midlothian High School's DECA Chapter celebrated its annual Virginia DECA Day 2019. This group of business-savvy students congregated in club sponsor Mrs. Carolyn Manheim's room to enjoy a variety of treats, including: candy, lemonade, and a cake, which read, "Celebrate! Happy Virginia DECA Day!" President Ryan Monahan, Vice President of Community Service Zach Vanderslice, Vice President of Social Events Tiyba Akram, Vice President of Communications Seth Grossman, and Vice President of Public Relations Ben McCormack hosted the event, using this opportunity to spread the word about the upcoming District Leadership Conference (DLC) on January 8, 2020, as business classes begin sign-ups for the various competition events offered by DECA, such as Retail Merchandising and Business Services Marketing. While Vice President of Competition and 2019 national qualifier Ben Wrobel missed the social due to a band event, he shares his dedication to the group and hopes for a plethora of participants in the International Career Development Conference (ICDC) in Nashville, Tennessee.
DECA focuses on the subject area of business and marketing. In order to participate as an active member, students must enroll in a marketing/business class, such as: Principles of Business and Marketing, Sports Marketing, Global Trade, or IB Business Management. The club provides an opportunity for students to experience life as an entrepreneur, an inventor, or a marketing planner. At DECA competitions, the students face difficult tasks involving a business or marketing problem, and they create plans that could solve the problem. From how to bring in more customers to a store on a day that lacks its usual congestion to how to compete with a similar store in the same shopping center, the issue span a wide range of situations. Throughout the year, Manheim hosts different catered social events for club members, such as Virginia DECA Day. Sign-ups for DECA do not begin again until next school year, but as scheduling time approaches, anyone interested in DECA should sign up for a marketing class in order to be eligible.
Grossman took Midlo Morning tickets for the social and welcomed members into the event as Akram DJ'd, hyping up the event through the various tunes she shared.  Students mingled about the room, meeting all the new participants, and catching up with previous while enjoying cake and lemonade, served by Vanderslice and Manheim. Manheim hosts the socials because she believes they provide an opportunity for "students of all different grade levels to bond over a common interest: DECA". The officers and Manheim alike provided an outlet for DECA members, which they plan to continue to foster throughout the remainder of the year.
About the Contributor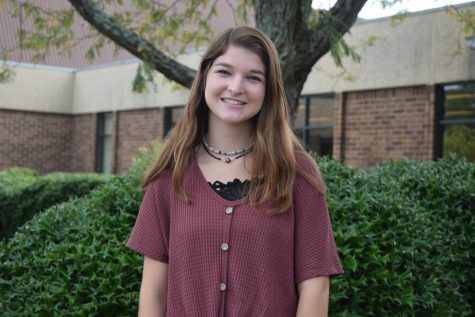 Ashley Manheim, Midlo Scoop Editor-in-Chief
Ashley Manheim, Editor-in-Chief, Class of 2020