Interact Club supports Midlothian Food Festival
Interact volunteers contribute to community
Out of the many unique clubs offered at Midlothian High School, Interact Club, sponsored by CTE teacher Mr. Steve Hayward, stands out. Community service is a very important aspect of life, and Interact gives high school students an opportunity to help others, give back to the community, and gain vital experiences for college. The club participates in 2-4 substantial community service projects each year. Last year, Interact students monitored the "Kid Zone" at the Magnificent Midlothian Food Festival in October, and later, decorated The Doorways for Christmas, both annual activities that students thoroughly enjoy due to the opportunity to give back.
On Saturday, October 12, 2019, Midlo Interact Club members, Grant Garrison, Kaitlyn Abbott, Maddie Bryan, Caroline Pickels, Jeffrey Klaiber, Ashley Manheim, Abigail Graves, Del Herbert, Claire Horansky, Tiyba Akram, Samantha Ruano, and Jose Hernandez, volunteered at the 2019 Magnificent Midlothian Food Festival in Westchester Commons. Throughout the day, thousands of people from across Midlothian stopped by the festival, which featured a variety of food and drinks from local vendors, live music, silent auctions, and entertainment for any age. Through Rotary International, all proceeds from the event benefit local charities.
The volunteer supervisors put the participants to work with Midlothian on trash duty. Interact Club Vice President Jeff Klaiber immediately picked up a broom and dust pan and scrutinized his surroundings, making sure the area remained clean. President Ashley Manheim and Co- Vice President Abigail Graves led their fellow shift members in ensuring all trash cans remained clean and far from overflowing. Graves recalls her experience at the festival as "a great way to dedicate my time in a way that makes community service interactive."
With bouncy houses, endless choices of food, and men on stilts walking around and greeting the crowds, the 2019 Midlothian Food Festival provided a great experience for all participants involved, whether volunteer or guest. Up next quarter, the club will travel to Richmond and decorate The Doorways, a hospitality house, in Christmas and Hanukkah fashion. To join Interact Club, see Mr. Steve Hayward or contact one of the officers.
About the Writer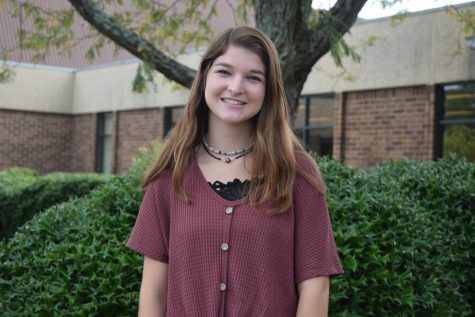 Ashley Manheim, Midlo Scoop Editor-in-Chief
Ashley Manheim, Editor-in-Chief, Class of 2020