IB Reminiscing
On Wednesday, May 25, 2016, Midlothian's International Baccalaureate Class of 2016 celebrated the end of the year with the traditional IB banquet. The banquet began at 6 pm at Salisbury Country Club. IB students, their families, faculty members, and administrators all attended the event.
The event commenced with a speech by Mrs. Jamie Barnes, former IB coordinator and current specialty center evaluator. Mrs. Barnes congratulated the IB students on their commendable feat. Following her, Principal Shawn Abel highlighted the experiences the IB students had shared through an informal IB senior survey earlier that year. The experiences elicited several smiles as the students reminisced over the times that they shared as a class. In Midlothian's IB program, the IB students in one grade typically spend the majority of their class periods together for two years.
Senior IB student Kenrick Cameron particularly enjoyed the speeches and believed that they encapsulated the intense journey he and his classmates have gone through in high school, saying, "The banquet put into perspective the collective effort myself and my classmates put forth to complete the IB Programme."
Afterwards, senior IB students Melisa Cirkic and Madison Conner announced sentimental IB superlatives, collectively voted on by the IB class for each student. Senior Kathryn Osmond, for example, received the superlative "Most Likely to Be a CEO". After the superlatives, Cirkic gave a profound speech recognizing her parents' struggle as immigrants as they left their home in Bosnia. She highlighted the value of education students often forget to appreciate and honored her parents, thanking them for the struggles they endured to give her the life she has today. The audience listened with rapt attention and applauded thoroughly.
After Cirkic's speech, the IB students received their medals and reflected upon their time in IB, hardly believing that their time at Midlo is nearly its end. "The banquet was kind of bittersweet," said senior Claire Bobowski. "We knew it was an IB tradition to have it at the end of the senior year, but actually having the banquet showed us how far we really had come. We were all about to graduate. A lot of us were going down completely separate paths in life. It was filled with a lot of funny, but sad moments because all of us realized that this was the last we would celebrate together, and it be similar to what we had already known. After that, everything would change." Although the hard work to achieve an IB diploma is arduous, the relationships and experience gained along the way make the struggle worthwhile. The IB banquet provided an opportunity for seniors to bask in that shared experience before moving on to new adventures.
About the Writer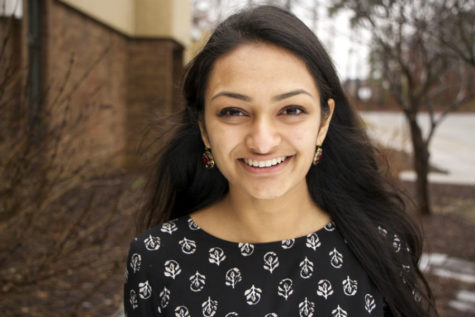 Neha Kulkarni, Midlo Scoop Staff