French exchange students return for a second trip to the United States
French students reunite with their American Pen Pals
On August 11, 2019, Juniors Madelyn Venable and Emily Gundel anxiously waited at Dulles International Airport for Antoine Lasson and Emilie Vaude to walk through the airport doors. Last October, Venable and Gundel participated in the French exchange between Midlothian High School and James River High School, along with students from Eperney, France. Although some students' relationships with their exchange students ended when the students left, Venable and Gundel continued to keep in contact with their pen pals, leading to another trip for Lasson and Vaude to the United States to visit their far away friends.
Lasson's first stop in America was Virginia Beach. Despite the gloomy sky, Lasson, Gundel, and her brother Nick Gundel spent the day in the cold waters of the Atlantic Ocean. Lasson and Gundel also visited Colonial Williamsburg with their junior Carolyne Francis, where Lasson learned about American History and walked through the streets of Virginia. During his time in the United States, Lasson was treated to a classic tradition in Midlothian, Dollar Taco Night at El Cerro Azul, where countless teenagers go with their friends to enjoy the cheap, yet delicious, tacos. On Saturday night, August 18th, Lasson, Gundel, and her brother spent the night with Midlo students, Severin McNulty, Isabella McNulty, and Sydney Boehman.
Although Lasson and Vaude had separate adventures in America, they spent plenty of time with each other. Lasson and Vaude went bowling at Uptown Alley with Gundel, Venable, Meghan Owings, and Venable's sister Lauren Venable. They also spent a day at Venable's house tie-dying t-shirts and playing Just Dance, one of Lasson's favorite games. Then that night they settled down on the couch to watch Isn't it Romantic, a Rebel Wilson romantic comedy. When asked about her favorite activity in America this summer, Vaude shared, "I think that I really loved being with Lisa's and Chris' families; that was very fun, and I really felt peaceful… like I was part of the family again, more than before! I also loved the last restaurant we did together because we had so much fun! I was so happy with them."
The two weeks that Vaude and Lasson had in America flew by and came to an end too quickly. On August 25, Vaude and Lasson drove to the airport with solemn expressions.  Only one person could go with Lasson and Vaude to their gate, so it was finally time to say goodbye. With tears brimming the edge of their eyes, Lasson and Vaude said their final goodbyes, but they felt hopeful to see their friends again. "Very, very, very sad, of course, because you're my second family," Lasson shared when asked how he felt when he had to say goodbye.
About the Contributor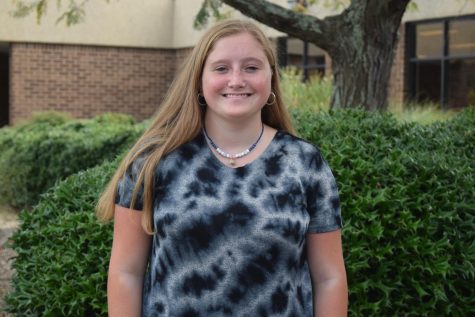 Emily Gundel, Midlo Scoop Staff
Emily Gundel, Class of 2021