Midlothian seniors look ahead
As the 2019 school year comes to a close, Midlothian seniors have their eyes set on the future. The Class of 2019 will soon begin the next chapter of their lives by graduating high school and continuing their education.
Virginia Tech is a popular destination for many Midlothian seniors, including Sophie King, who felt ecstatic to receive her acceptance letter from her dream school. "I didn't expect the decision to be posted so early, so I was even more shocked when I saw that I got in! It was such a wave of relief," reflects King. Casey Branin decided Tech was the place for him because he "grew up going to Blacksburg to visit [his] siblings. The atmosphere in Blacksburg is unmatched with great sports, food, and student base. Everyone there loves to be a Hokie." James Pridgen plans to study science at the university because of its stellar College of Science, and Jake Sanza also become a Hokie.
Other seniors will embark to the Shenandoah Valley to James Madison University, such as Sebastian Knaupp, who appreciates that "JMU is close, but not too close." When Morgan Lemon toured the campus, she immediately felt like she was at home. "It was the perfect size for me," shares Lemon. Sydney Barefoot always wanted to be a Duke because of the school's "great program for elementary education. JMU also has a dance group [she] would like to join." Eryn Marsh intends to study nursing at the university, and Kristen Botset and Jack Williams also looks forward to becoming Dukes.
The University of Virginia will also be a new home for many Midlothian seniors like J.P. Jarratt, who feels that the environment in Charlottesville is the best fit for him. Upon receiving her acceptance letter, Samantha Boero was "so happy [she] was crying. To see that all [her] hard work over the past 4 years had paid off, there is no feeling like it." John Williams plans to major in business at the prestigious university. "The McIntire School of Commerce is one of the best business schools in the world with a great undergraduate program and alumni network," says Williams. Will Pomeroy grew up cheering on UVA in football, basketball, and lacrosse, so he is proud to now be able to root for them as a student. Joe Hester also looks forward to moving to Hooville.
Some seniors choose to not only leave home, but the state as well, traveling great distances for their education. Sydney Constantino will attend Boston College next year. "I never expected to go to Boston College, but when I toured it with my dad who also went there, I really liked it," shares Constantino. Tyler Ezell is excited to major in business at the University of Michigan, a school which other members of his family have also attended. Gurleen Jaswal will explore her future in the Big Apple, where she will attend. New York University. Grace Beattie plans to study psychology at the University of South Carolina, where both of her parents and brother attended, so "at this point, it's tradition."
With graduation around the corner, numerous Trojans will leave their mark on Midlo in the coming weeks and prepare to grow and prosper on a whole new level, as they travel to their respective colleges and universities.
About the Contributor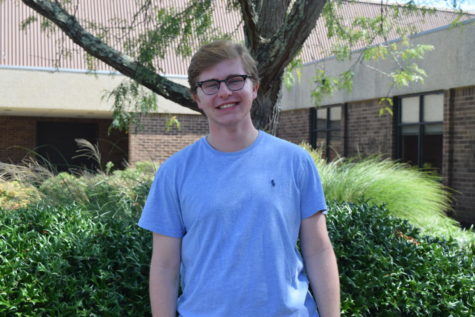 Brent Novey, Midlo Scoop Staff