RAMPS Restores Confidence in Motion
After a week of extensive money collections and advocacy for new ramps in the Richmond community, Midlo's RAMPS Club concluded their Digging 4 Dollars annual fundraiser on Friday, April 26th. The Digging for Dollars event created a competition between first period classes, where the winners received a free breakfast for bringing in the most money to support RAMPS, as the spring build approaches.
In total, Midlo RAMPS club raised over $1,200 during the Digging 4 Dollars campaign, which was enough to fund two builds, which took place on Sunday, May 5th. The builds began at 9:00 am, when participating team workers gathered at Midlothian High School and departed to the first location in Chester, Virginia. The first client, Chad's, need for a wheel ramp derives from a chronic condition that leaves him unable to walk. Chad successfully rolled down the wheelchair ramp with a big smile and appreciative gestures towards each student volunteer. The second client, retired police officer Anthony, battles nephropathy, diabetes, arthritis and heart issues. Anthony has fallen several times while trying to get in and out of his home, emphasizing his need for a wheelchair ramp. Anthony returned from church on Sunday afternoon, just as the Midlo RAMPS team finished his ramp, leaving him shocked and beyond excited to test it out.
Midlo RAMPS club members spend all year fundraising, and watching clients restore confidence in maneuvering provides the most rewarding aspect of their work. "The clients were so patient and appreciative of our service and made sure to let us know how pleased they were with their new ramp," stated Susan Revere, Executive Director of RAMPS. The following students participated in the RAMPS build to better the lives of Richmond community members:
Mandy Elsakr
Rachel Edwards
Rachel Ferguson
Gavin Holloway
John Kessler
Nic Hudson
Paul Miller
Carrie Rowley
Lily Suddreth
Matthew Suddreth
Abisha Vakadani
Ajla Vehab
RAMPS thanks everyone who participated in supporting the fundraiser. Ms. Shea Collins, Midlothian High School Activities Director, announced the winners on Tuesday, April 30th, over the morning announcements. Mrs. Monica Van Arsdale (fifth place), Mrs. Jasmine Kumar (fourth place), and Mrs. Mary Williams (third place) received special shout outs for their heavy support in raising money. Finally, Ms. Collins announced the top two winners. Mrs. Elizabeth Harbula and Ms. Allison Crerie tied for first place, and both won a free breakfast of their choice. Both classes received bagels and partook in a small celebration to acknowledge their victory. Each donation saves lives. For information, to donate, or to raise awareness, visit rampsbystudents.org.
About the Contributor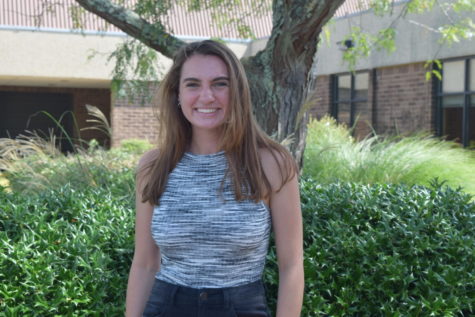 Carrie Rowley, Midlo Scoop Staff