Teachers enjoy a variety of pastimes outside of the classroom
Teacher Appreciation Week, 2019
To celebrate Teacher Appreciation Week, the Midlo Scoop would like to recognize the activities and hobbies of Midlothian's teachers outside of school.
Biology teacher and Science Department Chair Mr. Nick Davis spends as much time as he can in the outdoors. "The best part of being outdoors is feeling disconnected from apps and social media and feeling more connected to nature," shares Davis. "Instead of hearing notifications from apps, you can hear birds, running water, frogs, crickets, and other animals making their sounds to indicate hunger, territory, or a variety of other things." Davis is originally from Canada, so his love for the outdoors is rooted in his experiences in the Canadian Rockies, where he used to go camping as a child.  In high school, Davis enjoyed trail running on his own; however, he has found that hiking is even more fun with his family. This past Spring Break, he and his wife traveled to Asheville, NC, and completed a few hikes into the mountains.
AP and IB Psychology teacher Mr. Nick Kirkbride spends his time away from school at Grandmaster Dong's Karate School, where he studies Taekwondo. Kirkbride has practiced diligently, climbing his way through the belts for 4 years, and in October of 2017, he received the martial art's highest honor, black belt. Currently a first degree black belt, he is working towards the belt's second degree. "Taekwondo allows me to be a student elsewhere and learn from someone else's teaching style," reflects Kirkbride. He has incorporated the martial art in the classroom when discussing Bandura's Bobo Doll Experiment, an experiment testing observational learning and aggression. He kicked down the inflatable doll, surprising those who didn't know of his experience. Recently, his younger brother has joined him, making Taekwondo a family affair.
College Composition and Forensics & Debate Coach Mrs. Beth Morris can be found in her garden after school, tending to her variety of flowers. Morris' father, who taught her everything she knows about gardening, sparked her interest in the hobby. She specializes in flowers, enjoying the colorful creativity that follows. "Every year, my garden looks a little different because I've picked out different plants and put them in new spots. It's fun to change color and design," says Morris. One variety, the hydrangea, takes a great deal of effort and care; however, Morris loves the flowers, so she puts up with the plant's fussiness.
The more you know!
About the Contributors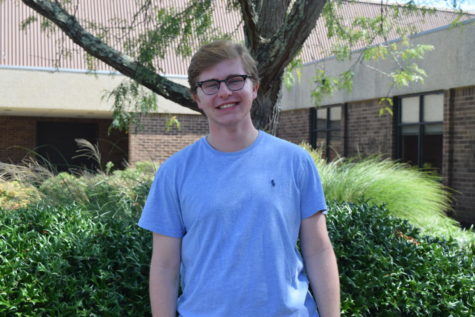 Brent Novey, Midlo Scoop Staff