Midlo Students Build Bridges to Engineering Opportunities
Virginia Department of Transportation Bridge Building Competition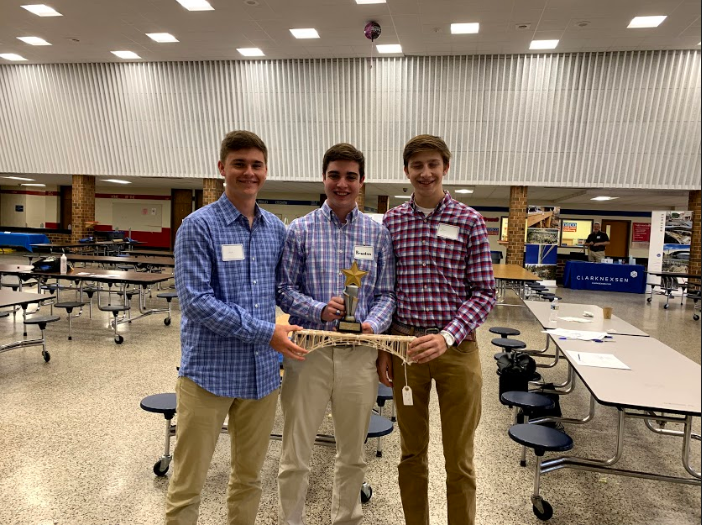 On April 27, 2019, four Midlothian High School teams participated in the 3rd Annual Virginia Department of Transportation (VDOT) Bridge Building Competition held at Hermitage High School. Teams and parents from throughout the Richmond area participated. The competition included an engineering presentation to a judging panel of professional engineers on bridges that were student-designed, built, and then tested at the competition.
Grades 9-10 Division: Tied-Arch (Bowstring) Bridge
 1st Place: Logan Jennings, Alexander Bashensky, and Vasili Konstantinakos
Grades 11 – 12 Division: Deck Arch Truss Bridge
1st Place: Brandon Brown, Justin Hawkins, and Jack Williams 
2nd Place: Ben Scott, Connor Chamberlain, and Christian Jones
3rd Place: Adam Dillingham, Cameron Hogge, and Tristan Smith
The 1st place 11-12 bridge weighed approximately 60 grams and successfully sustained a structural load of 233 pounds, earning high praise from multiple VDOT Bridge Engineers and the VDOT Director of Bridge Engineering. In addition to the competition, Midlo students had the opportunity to interact with several Virginia-based engineering firms that helped sponsor the event. Several participants now have solid contacts and have been invited to apply for engineering-related internship positions.