Midlo Students Experience Spanish Culture
Midlo Spanish Field Trip: Washington, D.C.
On April 23, 2019, Señora Travis Jimenez's Honors Spanish 4 and IB Spanish students embarked on a field trip to The National Gallery of Art in Washington, D.C. For the past two months, the Spanish 4 Honors students have studied various artists in-depth, including Pablo Picasso, Salvador Dali, and Frida Kahlo. Last year, the IB Spanish students also studied these artists, but did not visit the museum because the trip only occurs every two years. Accompanied by chaperones Mr. Mark Spewak, Mrs. Laura Brady, and Señora Linda Szwabowski, the students left Midlothian High School at 7:45 a.m. and headed to the museum.
Once at the National Gallery of Art, students formed groups of ten, and Jimenez passed out a worksheet. Then, with their chaperones, students had the opportunity to explore the West Wing of the museum and examine the works of El Greco, Francisco Goya, Diego Velásquez, Bartolomé Murillo, and Salvador Dali. After they visited the West Wing, the students walked through the inside tunnel to the East Wing, where they formed self-selected groups. Alongside their friends, students toured throughout the museum and studied various works of Joan Miró and Pablo Picasso; once they finished a worksheet, groups visit exhibits of their choice in the East Wing for the remainder of the time. After three hours of exploring the museum and learning about art, students and chaperones walked to the Spanish restaurant, Jaleo, for lunch.
Jaleo serves traditional Spanish food in a modern and artistic environment; inside of the restaurant, bright colors, abstract art, and ceiling decorations create an upbeat and energizing mood. At Jaleo, students chose where to sit, and as soon as they were seated, the feast began. Instead of each person ordering his own meal, the group ate family style, and Jaleo selected the nine items to be served. First, the group enjoyed a complimentary basket of bread and oil, followed by endives with goat cheese, oranges, and almonds. Then, crispy bread brushed with tomato delighted the students and chaperones alike; to conclude the first course, everyone enjoyed traditional chicken fritters. During the main course, students taste sautéed shrimp, traditional chorizo, sautéed spinach, and the legendary vegan rice; servers paraded a pan of rice, three feet in diameter, around the restaurant, which created a family-like atmosphere and added to the traditional theme of the restaurant. Finally, the group enjoyed two desserts, classic Spanish vanilla and chocolate custard and traditional Spanish flan. This experience allowed students to eat at a traditional Spanish restaurant and broaden their horizons by trying new foods while learning about Spanish culture.
After they spent the day exploring The National Gallery of Art and eating lunch at Jaleo, everyone boarded the bus to return to Midlothian High School. Sophomore Nicole Dudley remarks, "It was so mesmerizing to see the pieces of art that we talked about in class come to life. I loved trying to find our way through the city and putting all of our brains together to help out. Although walking to lunch was hot and tiring, it was so worth it; Señora Jimenez couldn't have picked a better place to eat. The unique way the food was served was a really cool experience and I'm glad I got to meet new people as well." 
About the Contributor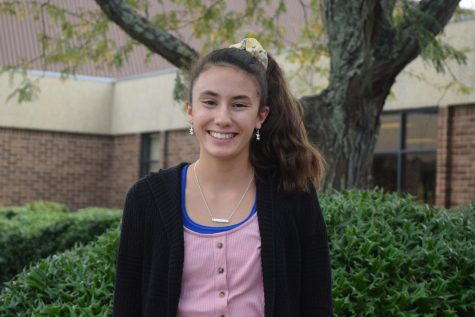 Katherine Krievs, Editor-in-Chief
Katherine Krievs, Editor-in Chief, Class of 2021