CCPS Recognizes High Achieving Students
Top 10% of Midlothian High School PSAT Scores
Hang on for a minute...we're trying to find some more stories you might like.
Each year, Chesterfield County Public Schools recognizes students from each CCPS high school who receive PSAT scores in the top 10% of their high schools. CCPS held a Recognition Ceremony on March 14, 2019, from 6:00 pm to 7:00 pm at the Conference Center at the Hull Street Chesterfield Technical Center. The county invited high achieving CCPS students and their families to the exclusive celebration.
The ceremony began with Dr. John B. Gordon III, CCPS Chief of Schools, and Robert W. Thompson, School Board Chair. The two introduced themselves and welcomed the guests, then informed students of the importance of scoring well on the PSAT, explaining how it helps them advance their academic future. Following their opening remarks, Gordon and Thompson passed the microphone to CCPS Superintendent of Schools Dr. Mervin B. Daugherty, who encouraged the students to take the next steps in preparing for SATs and ACTs, take challenging courses, and retest with the PSAT to compete for National Merit recognition and potential scholarships. The speakers closed the informative speech after providing additional information on upcoming SAT Academies, test preparation, and scholarship opportunities. Dr. Daughtery then congratulated each student who scored in the top 10% of their high schools on the PSAT scores. After the ceremony, guests enjoyed refreshments provided by Wegmans.
Midlothian High School Counselor Miss Natalie Harrison commented, "It was a lovely and informative event, and it was great to see our students recognized at the county level," adding that she often emphasizes the importance of a strong work ethic to her students. Assistant Principal Robert Gifford also expressed pride in Midlo students, sharing, "Midlothian High School is very proud of the students who earned recognition for scoring so well on their PSAT, and we encourage these students to take the next steps [tackling] challenging coursework to develop academic skills in preparation for a bright future after high school."
Congratulations to the following students for earning PSAT scores that ranked in the top 10% of Midlothian High School:
Alex Ayoub
Alisa Bryan
Makayley Crisp
Victoria Galdamez
Michelle Kulyk
Rhys Schwan
Hunter Stanek
Michaelena Caffall
Kathryn Kinskie
Christina Mulroy
Samantha Perez
About the Writer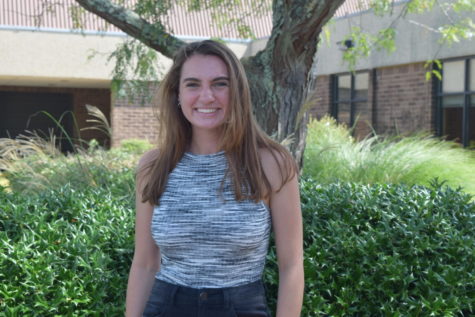 Carrie Rowley, Midlo Scoop Staff