Tang & Biscuit Revives Shuffleboard
Restaurant Review: Tang & Biscuit
The up-and-coming Scott's Addition District in Richmond, Virginia, houses many breweries, restaurants, apartments, and the newly-established Tang & Biscuit Social Club. The Tang & Biscuit acts as a restaurant, social club, shuffleboard court, and board-game palace. Outwardly, this venue sports bright blue bricks that stand out against the surrounding cityscape. As patrons enter, the energetic color scheme only electrifies; bright, neon signs adorn the walls, alongside inspirational quotes, such as "The World Is Yours."
Once inside, guests can take a place at the bar or sit at a table with friends. At the tables, a touch of the call button summons a waiter to place orders for drinks, appetizers, or meals. The drink menu at the Tang & Biscuit covers a wide variety of beverages inspired by the 1970's drink, Tang. On the food side, Tang & Biscuit serves everything from flavored biscuits, such as the Memphis Pig Biscuit, to specialty tater tots, wings, and pizza. One of the more popular food items, The Giant Pretzel, covered in coarse sea salt, arrives hanging on a hook with an assortment of cheese and mustard. Classic board games, including Monopoly, Exploding Kittens, and Guess Who, are available for any guest to enjoy. At this restaurant, everyone enjoys themselves under the neon lights.
In addition to the restaurant, the Tang & Biscuit also serves as a shuffleboard court and social club. Throughout the venue, guests can find giant versions of childhood games, including Jenga, Uno, and Connect 4. Cornhole, Ping Pong, and the Bimini Ring Game are available for anyone to play, free of charge. While some choose to engage in nostalgic board games, others opt for shuffleboard. The price per hour for a shuffleboard court varies daily, but generally ranges from an affordable $30-$60 per hour. Each shuffleboard court comes equipped with a scoring board, instruction card, tangs (poles), and biscuits (pucks). Patrons play, laugh, and smile, while 1990's-inspired music plays in the background. Sophomore Libby Friedman frequently visits the Tang & Biscuit and expresses, "At first, I didn't think that it would be fun, but it was so fun to play shuffleboard and all of the other games. Also, the food is really good."
Tang & Biscuit continues to revive shuffleboard and create a fun and fresh atmosphere for teens and adults alike in Richmond's hip neighborhood, Scott's Addition.
About the Contributor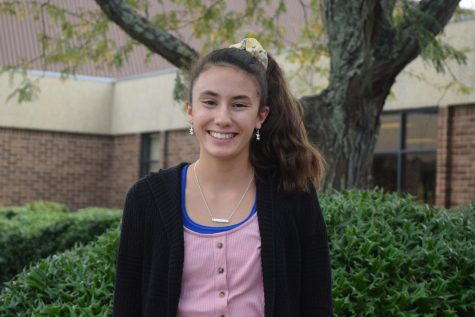 Katherine Krievs, Midlo Scoop Editor-in-Chief