Seniors Celebrate With Cocoa and Cookies
Senior Class De-stresses After the First Semester
On Friday, February 22, 2019, the senior class officers held a Cocoa & Cookies event during Midlo Morning for the Class of 2019, in an effort to allow seniors to de-stress and celebrate the end of first semester. With the help of Class Sponsors, Mrs. Carolyn Manheim and Mr. Chris Elliott, class officers, Sujeet Alwin, Josue Candelaria, Amanda Chok, Maclane Self, and Da-Lan Pham, organized the entire event.
The event started at 9:25 AM, giving the seniors time to mingle, drink hot chocolate, and eat a plethora of cookies provided by the senior class. Once the idea of Cocoa & Cookies came about, the class officers used leftover funds to buy everything they would need for the event, such as: cookies, hot chocolate mix, cups, spoons, napkins, etc. They borrowed hot water boilers from teachers and the office, and the Autism suite graciously supplied other items that the class officers needed. Senior class Vice President Josue Candelaria, shared, "Although attendance was not as high as we had hoped, it definitely went well, and I felt like everyone there enjoyed it!"
Senior class Vice President of Funding Da-Lan Pham thought of the idea when Mr. Elliott and Mrs. Manheim informed the officers about the extra money in the senior class funds. Pham wanted to give back to the class, and the class officers put their heads together. They all agreed on the Cocoa & Cookies idea and set the plan in motion. Senior class Secretary Amanda Chok commented on the senior event, saying, "I really enjoyed the opportunity to rally the senior class together and have a moment to just take a rest and appreciate that we are seniors. I personally know that everyone has worked so hard, so this event was to let everyone know that it's almost over and that the officers are here to support every step of the way."
Overall, the event proved extremely successful. With people coming in and out or taking the time to sit and talk with friends, the event was a great time and opportunity for everyone to get together, unwind, and appreciate the fact that the Class of 2019 is almost at the finish line.
About the Contributor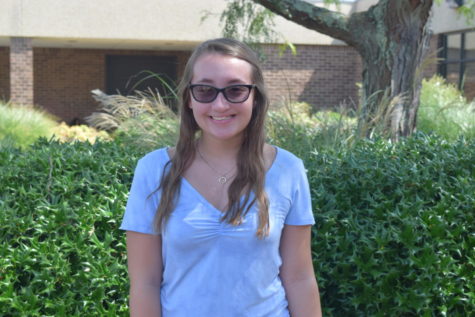 Sarah Moskovitz, Midlo Scoop Staff