Midlo Takes a Deeper Dive Into Black History Month
Black History Month is celebrated across America during the month of February. It is a time for all people to reflect on the achievements and groundbreaking strides the African-American community has made in the past and continue to make today. Black History Month, originally known as "Negro History Week", was started in 1926 by Carter G. Woodson. However, the week-long celebration changed in 1976 into an entire month to celebrate the African-Americans who have contributed in all aspects of America history.
Midlothian High School celebrates Black History Month on the morning announcements by stating an intriguing fact each day about an African-American, who made history on that exact day many years ago. This ensures that students of all races are more aware of black history. In the open commons, a display case exhibits facts and books about African-Americans. The Breaking Down Barriers Club, created to make Midlo's community more inclusive, assembled the display case in an effort to bring more attention to Black History Month. Rachel Rivera, a senior who contributed to setting up the display case, states that her hope is that "future generations are more educated and informed on history that doesn't directly impact them."
The display case includes books written by and about African-Americans and contain themes that describe the challenges of growing up African-American. Items that hold significance in black history are also displayed, such as the Black Power Fist, which symbolizes unity against issues that affect black lives, such as police brutality as well as equal rights and justice. Other items in the case include an afro pick, which is a type of comb used to comb through and define an afro, as well as a head scarf, a vibrant piece of fabric used to accessorize.. During slavery, slaves hid messages in their head scarfs by intertwining the different colors and patterns.
Black citizens in America have come far since their enslavement in the 17th century. In the early to mid 1800s, Black Americans were denied basic civil rights, such as freedom of speech and the right to the public education. The strides that Africans-Americans have made in the past 200 years are extraordinary. Although challenges are still ahead for blacks in America, the obstacles overcome thus far signify the necessity of this month. From Frederick Douglas to Barack Obama, the black community has shown that, with perseverance and dedication, anything is possible, no matter the obstacles faced.
About the Contributor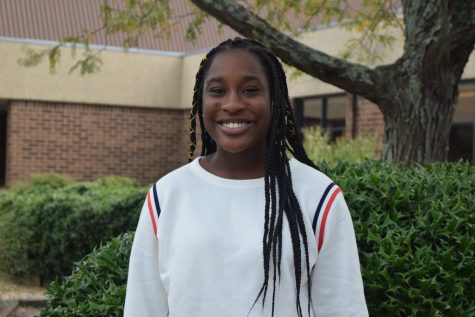 Zinzi Symister, Midlo Scoop Staff
Zinzi Symister, Class of 2021