Latin Club Whips Up Inspired Cakes
Latin Club Cake Decorating Competition
On February 14, 2019, Midlothian High School Latin Club members gathered in the closed commons to compete in a Valentine's Day themed cake decorating competition. Organizers encouraged members to bring their "sweetie," a friend, or a significant other. Winners of the competition walked away with a small prize and the prestigious title of Best Cake Decorator. Latin Club officers baked the cakes used in the competition. Latin Club President Nora Carlucci added her own touch by making pancakes for competitors to incorporate in their cakes.
At 3:00 pm, excitement filled the room, as students eagerly awaited to beginning of the competition. Twizzlers, Skittles, animal crackers, frosting, and icing of various colors were available for use. Students based their cakes on a Latin phrase. The teams quickly got to work because they only had 45 minutes to ice and decorate a cake that best fit the theme and also captured the attention of the judges. The competition proved fierce, for all teams worked to make their cake stand out and creatively incorporate their theme.
The cakes had a wide range of themes, including: "e corde", which translates to "from the heart"; "terra incognita," which translates to "unknown land"; "amor omnia vincit," which translates to "Love conquers all ; "fiat lux," which translates to "Let there be light"; "venci, vedi, vici," which translates to " I came; I saw; I conquered"; and "cave canem," which translates to "Beware of the dog". Teammates used these phrases to inspire their masterpieces.
After much deliberation, judges Ms. Emily Pfund and Mrs. Brooke Hooke came to a unanimous decision, based on the best visual presentation. Leo Crayton, Thomas Mackie, Taylor Bennett, Matthew Smith, Greylin Caddell, and Paul Miller won the top honor for their theme: "terra incognita," which translates to "unknown land". The group used black frosting and animal crackers to mimic the River Styx, a river that forms the border between the underworld and the real world in Greek Mythology. Sophomore Rylee Moore states that her favorite part of the competition was "decorating the cake with all of the icing and then eating the icing." All who attended enjoyed spending time with friends, participating in competition, and finally, eating their masterpieces.
About the Contributor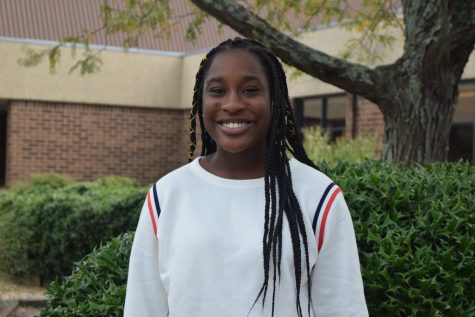 Zinzi Symister, Midlo Scoop Staff
Zinzi Symister, Class of 2021