Surviving Valentine's Day Without a Valentine
Midlo Scoop's Valentine's Day Survival Guide
Every year, Valentine's Day makes its mark as a romantic, loving holiday for all, especially if you have a significant other. With decadent sweets, heart-shaped toys, and vibrant bouquets of flowers, society embraces February 14th as a day for partners to take their affection for each other to another level. Although most individuals spend time with their significant others, not everyone has the ability to share this love-filled holiday with anyone. While many exchange hearts and kisses, some who endure the day without a partner find it difficult to escape the hype of Valentine's Day. Midlo Scoop has you covered, offering a Valentine's Day bucket list for those without a Valentine who want to embrace the holiday and still have a memorable time on this day.
Do something nice for another person.

From opening a door for someone, to buying a rose and giving it to a random person on the street, you will fill with love after giving your affection out to the world.

Take out your chef hat and make something new. Try a new recipe and spend as much time as possible on it. After you make your delicious meal, you can give it to your neighbor. We won't tell anyone if you eat it by yourself.
Use art as a way to release your feelings.

Painting and drawing is therapeutic and helps to relax, reflect, and focus. You even will create a beautiful piece for yourself or for someone else to enjoy.

Pamper yourself with self–care.

You can be your own admirer this Valentine's Day and gift yourself with a hot bath, a face mask, or a mani-pedi.

Plan a vacation.

Book a trip somewhere exotic, warm, and away from your daily stresses and the cold weather. Whether it is a road trip across the country or a flight abroad, traveling is a great way to detach yourself, relax, and look at the world in a new light.

Lift your pencil and write a poem.

Roses are red, violets are blue, write a poem this Valentine's Day- 

Midlo Scoop

hopes you do!

Have a movie or book marathon.

Actors and authors, such as Nicholas Sparks, will definitely pull on your heartstrings through their words and characters.

Swipe your card and enjoy a shopping spree.

A new top? Those shoes? An iPhone? It is all on sale this Valentine's Day. By the way, that top would look lovely on you!

Volunteer in the community.

Giving back to the community that gives you so much is one of the most charitable actions. The soup kitchen and local clinics are open for you to help those less fortunate and express your love for society.

Spend time with those you love.

All in all, you do not need to spend Valentine's Day alone; you have your family and friends! Make a Galentine's plan with your friends or do one of the activities on this list with your loved ones.
Valentine's Day is memorable for all, but it can be even more memorable for those who choose to make it worth remembering. One way to do that is by completing at least one of the items on this list, and Midlo Scoop certainly hopes you do. Happy Valentine's Day!
Leave a Comment
About the Contributor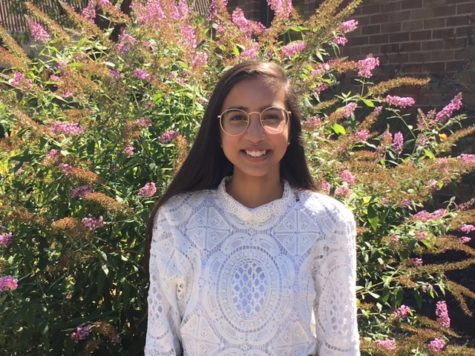 Nabiha Rais, Copy Editor
Nabiha Rais, Class of 2019