Date Recommendations for Valentine's Day
Special Ideas for an Outstanding Valentine's Date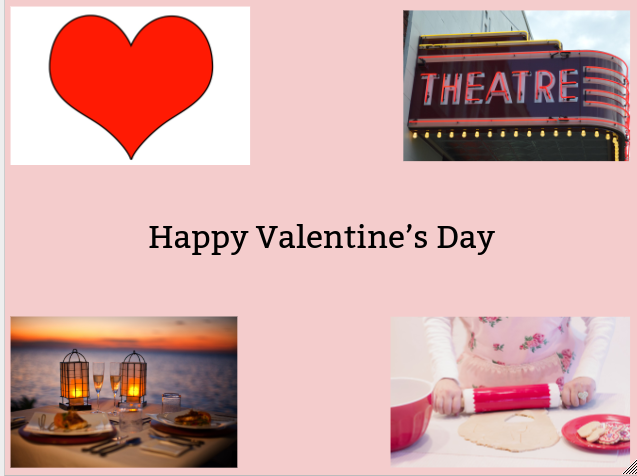 Valentine's Day is rapidly approaching, and some couples continue to struggle to find the perfect way to celebrate with their special someone. Whether students have never experienced a Valentine's Day date, or they have a hard time thinking of ways to celebrate, Midlo Scoop has some ideas for a special day with your loved one:
Recreate a first date: This date creates the perfect opportunity for you and your date to reminisce about the memories you shared the first date that you spent together. Bringing back these little details will make for a special night.

Cook for your special someone: You don't have to be a professional chef to make a great dinner for your date. You can simply make popcorn while watching a movie. This takes away the pressure of saving up money to go out; just have your date come over, make him/her dinner, and watch a movie.

Drive around town jamming to music: This idea could lead to an extremely enjoyable date because playing music both people can enjoy and singing along can make it special. It shows that you can be goofy together and just enjoy doing the fun things in life, and not just focus on the typical Valentine's day emotions, even though those are good too. Being around someone you love and just being yourself is a good way to spend the night. There is no pressure or limit on the fun things you can do. Just jamming out and being funny with each other can make for a perfect night.

Double dates: Going out with your partner and another couple can be fun because you get to hang with your close friends but also be with your Valentine. You can do an endless amount of activities together, for example, going to dinner together, driving, or ice skating. This idea will allow you to be around all the people you care about the most. This will result in a special Valentine's Day since you are just having fun and loving the time you share together.
Not every idea can be perfect, but doing something special and thoughtful, can go a long way. Showing that you care will make this Valentine's Day special. This day is not only about buying chocolates and presents; it's meant to share appreciation for someone you love.  Celebrate this Valentine's Day by making your special someone feel like they are the only person in the world. It is the day of love, so make it feel that way.