Midlo DECA Delivers at the Annual DLC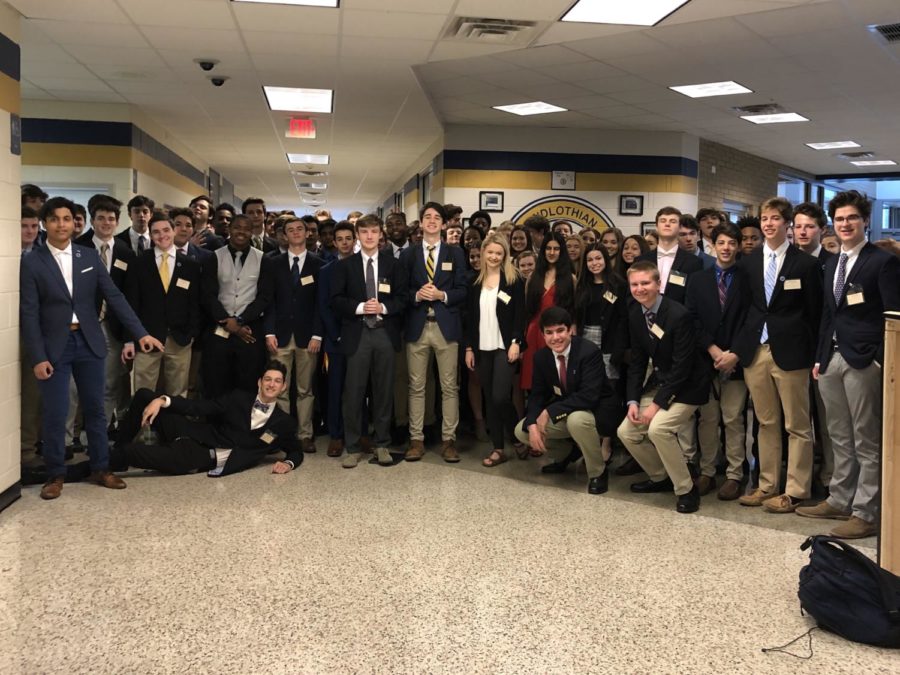 On Tuesday, January 8, 2019, Midlothian High School's DECA chapter traveled to Chesterfield Towne Center to compete in the annual DECA District Leadership Conference (DLC). Sports Marketing and IB Business Management students practiced for this in class a few days prior to the competition, and they left school feeling confident and ready to take home the gold. The students' energy and determination to win during the bus ride over led to a successful day at competition, and marketing teacher and DECA club sponsor Mrs. Carolyn Manheim exclaims, "My DECA members are truly exceptional, bright, and dedicated kids. They never fail to give DECA their 100% effort, and I am so proud to have such amazing students.".
DECA focuses on marketing, so any student who joins DECA must be in a business/marketing class in accordance to Virginia DECA rules. The club provides an opportunity for students to experience life as an entrepreneur, an inventor, or a marketing planner. At DECA competitions like DLC, the students face difficult tasks involving some sort of business/marketing problem, and they create plans that would solve the problem. The issue could be anything from how to bring in more customers to a store on a day that lacks its usual congestion, to how to compete with a similar store in the same shopping center; the issues are endless. Throughout the year, Mrs. Manheim also hosts different catered social events for club members and provides community service activities. Sign-ups for DECA do not begin again until next school year, but as scheduling time approaches, anyone interested in DECA should sign up for a marketing class to gain eligibility.
Upon arrival at the mall, students shopped, dined, and socialized at the shopping center while waiting for their role play events. Jack Dillon, Kaeden Daniels, Isaiah Azminia and Jacob Vanlandingham ate lunch at Red Robin prior to their competition, along with sophomore member Jon Smiley, who exclaims, "I really enjoyed competing in DECA and putting in my best effort at the competition. I look forward to the opportunity to come back next year and possibly place." Jake Childers comments, "I was so surprised when I found out I placed at DLC, and I cannot wait to compete in states as well." Adrian Cox, Jakob Marshall, and Ben Wrobel prepared for their role plays during their lunch break.
Following the events, the students left the mall and returned to school for the remainder of fourth period. Two days following the competition, Mrs. Manheim received the scores and shared them with her excited students. "I am very impressed with my students' performances in the competition this year; 25 students placed, and 15 students will have the opportunity to attend the state competition." Midlothian High School definitely did not come to play at the 2018 DECA District Leadership Conference, and the qualifying group looks forward for the chance to qualify for the national conference.
To qualify for the next competition, the DECA State Leadership Conference in Virginia Beach, VA, students must place 1st or 2nd, a very difficult task to accomplish when competing against roughly 20-30 students, depending on the event. Congratulations to the following students for advancing to the state competition:
Chris Sawyer, 1st Place, Automotive Services Marketing
Derek Christmas, 1st Place, Business Services Marketing
Will Morris, 1st Place, Entrepreneurship
Thomas Gray, 1st Place, Hotel & Lodging Management
Ben McCormack, 1st Place, Human Resources Management
Ben Wrobel, 1st Place, Personal Financial Literacy
Matt Shea, 1st Place, Quick Serve Restaurant Management
Lauren Hensley, 1st Place, Full Serve Restaurant Management
Da-Lan Pham, 1st Place, Retail Merchandising
Jakob Marshall, 1st Place, Accounting Applications
Kyle Kuennen, 2nd Place, Business Finance
Seth Grossman, 2nd Place, Food Marketing
Casey Steed, 2nd Place, Marketing Communications
Madison Fath, 2nd Place, Hospitality & Tourism Management
Jake Childers, 2nd Place, Sports & Entertainment Marketing
The following placed 3rd in the competition:
Carter Lovasz, Business Services Marketing
Zach Moreau, Food Marketing
Zach Baker, Hotel & Lodging Management
Chris Dutton, Human Resources Management
Bridget Ford, Principles of Finance
Braeden Berger, Principles of Marketing
Sujeet Alwin, Quick Serve Restaurant Management
William Galleher, Retail Merchandising
Izzy Benton, Apparel & Accessories Marketing
Connor McComb, Accounting Applications