Furman and Smith Verbally Commit to Randolph-Macon for Baseball
Furman and Smith Commit for Baseball
Each year, Midlo sends numerous athletes to take the next step in their athletic careers by signing and committing to play their sport at the collegiate level. College coaches now visit many high school sporting events to try to entice talented players to commit to their schools. In November of 2018, seniors Logan Smith and Camdton Furman fulfilled their dreams of becoming college athletes by committing to Randolph-Macon College to play baseball. Randolph Macon, a private college located in northern Ashland, Virginia, has a high acceptance rate of 66.5% as last averaged in 2016, as well as an average enrollment of 1,400 students.
Camdton Furman kicked off his baseball career at the young age of five years old and continues to learn and grow in his talent every day. To continue his passion for the sport, he plans to pitch for Randolph Macon's baseball team. Furman previously played for the Mid-Atlantic Orioles Travel Team, as well as the Midlothian High Baseball team during his years in high school, and he looks forward to playing in his senior year with the Midlo team this season. Throughout his high school career, Furman wanted to improve his game, which led him to practice roughly 5-6 times each week. "I was always doing something," he explained. His greatest memories from playing include the day Midlo beat Cosby for the first time, along with traveling to Houston for his club team.
One day, at a showcase game, the Randolph-Macon coach saw him play and contacted him. Among offers from other schools, Furman ultimately chose Randolph Macon because he believes it is the "best academic fit" for him. Furman explains his decision to attend a Division III school as, "I thought it was a good fit for me. They are a great baseball school to play at, and I want to win the championships with them." Furman looks forward to competing with other skilled athletes next season and anticipates forming bonds with his new team. He is undecided in his major at the moment, but plans to make a decision before move-in day.
Since Logan Smith was three years old, he has developed a passion for the sport of baseball. Throughout those years, he has played for the Rise Baseball Travel organization and competed on Midlothian High Baseball team, along with Furman. Smith proves his dedication in the sport by training every day during the on and off season. He experienced his best high school win against Cosby High School, a team they previously lost to for ten years in a row. Similar to Furman, Smith plans to finish out his last season with the high school team during his senior year.
Randolph Macon started following Smith throughout his tournaments along the East coast while talking to his coaches and decided to recruit him. Although he received many offers from other schools, his final two choices were Randolph Macon and Hampden Sydney. Smith chose Randolph Macon because ¨I felt that Macon was the perfect fit for me. I love the atmosphere and the campus!¨ The fact that the school is both close to home and competitive also appealed to him. He plans to focus on baseball and workouts while managing his academics throughout his college career. Smith states, " I am super-excited to meet more players, but I have already gotten to know a good amount of my future teammates from when I went on my overnight visit back in November.¨ He aims to major in either Physical Therapy or Business and Marketing and plans to decide before the start of school.
Smith and Furman both feel thrilled to take the next step in their athletic baseball careers and continue to play the sport they love for the next four years during their journey at Randolph Macon. They both look forward to a signing ceremony at Midlothian High School soon with their families and coaches by their sides, where they will officially commit to Randolph-Macon College as Yellow Jackets.
About the Contributor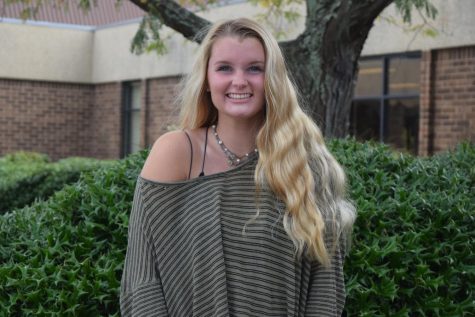 Cara Hahn, Midlo Scoop Staff