Interact Club Decorates the Doorways
Interact Club Sets Up Christmas Decorations at the Doorways
On Tuesday, December 4, 2018, Midlo's Interact Club traveled to Richmond to spread holiday cheer throughout  Doorways, a full-functioning hospitality house for those required to make frequent trips to MCV hospital due to an ill family member or friend. In the previous quarter, the Interact Club, a community service-based organization affiliated with Midlo's Rotary Club, worked the Midlothian Food Festival in Westchester Commons. Following their traditional service projects, they engaged in decorating the Doorways with Christmas and Hanukkah decorations in honor of the current and upcoming holidays. Mr. Steve Hayward met a group of 14 students, the largest number to participate in years, at the building in Richmond, where they greeted the employees who provided them with some decorating advice and afterwards thanked the students for their service. Club President Ashley Manheim divided the tasks, and the decorating commenced in groups of 2-3.
Sophomores Michael White and Jackson Toler set up the large Christmas tree in the lobby; they placed ornaments on the branches and spun ribbon around its circumference. Vice President Abigail Graves and junior Claire Horansky placed villages throughout the library and common areas, while chatting with new faces they saw wandering throughout the halls during the decorating process. Fariza Kareem and Emma Rice set up little trees on every hall and placed a menorah and a Hannukah wreath in the lobby area.  Vice President Jeffrey Klaiber and sophomore Lily DeBruycker strung red and green garland throughout the lobby and staircases all over the building.
Klaiber comments, "I had a great time decorating, especially because it was for people who could really use some Christmas cheer during these hard times." The Interact Club brought a large amount of holiday cheer to the residents of the Doorways, and many of them expressed their content with their improved home and their new, one of a kind decorations.
About the Photographer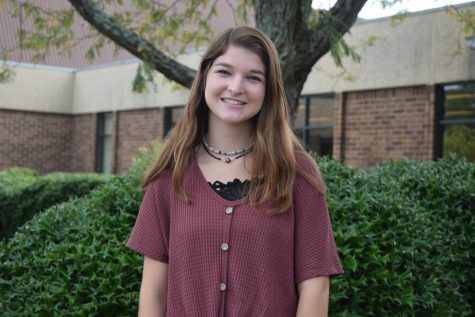 Ashley Manheim, Midlo Scoop Editor-in-Chief
Ashley Manheim, Editor-in-Chief, Class of 2020