Pridgen Earns Bravo Honor
Midlo Alumnus, Mr. Doug Pridgen, Speaks to CTE Students
Midlothian High School's 2018 Bravo Award Winner, Mr. Doug Pridgen, joined numerous Career and Technical Education (CTE) students and faculty in the Midlothian High auditorium during Midlo Morning on November 7, 2018. During this time, he shared his experiences and knowledge of the business world, which led him to receive the esteemed Bravo award. Principal Shawn Abel opened the assembly by describing the award as "the hall of fame for Midlo alumni".
The speaker attended Midlothian High School during his teenage years and later went on to pursue an extremely successful career in business. Pridgen currently maintains his position as CEO and former President of the Haley Automotive Group, which consists of 11 dealership locations throughout Virginia, five of which were built since he joined the company
After enlightening the students about business experience, Pridgen accepted questions from the large group of students.  Alec Townsend asked Mr. Pridgen what car sells the most, to which he answered: Toyota Camry. Other interested students, such as Layne Pigford, Casey Branin, and Brian Risk also shared questions, eager to learn as much about his success as they could.
Midlo's CTE students left the auditorium with a plethora of extra business knowledge thanks to Mr. Doug Pridgen, 2018 Bravo Award Winner. All of the CCPS Bravo Awards recipients will be honored with a special dinner on Thursday, November 8, 2018, at 6:00 pm, at the DoubleTree in Midlothian.
About the Photographer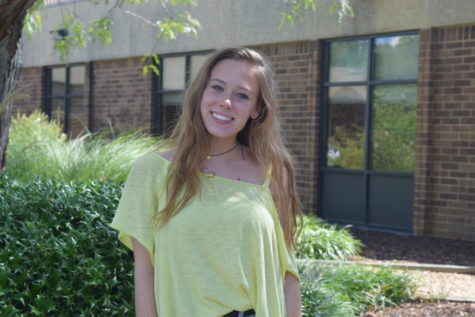 Sophie King, Midlo Scoop Photographer
Sophie King, Class of 2019