Howl-O-Scream Sends Attendees Shrieking
Busch Gardens Howl-O-Scream Opens
From September 15 to October 28, Busch Gardens Williamsburg transforms into a chilling cemetery for its 20th anniversary of the Howl-O-Scream. From haunted houses to scare zones and live shows, this year's new decor is sure to terrorize,  keeping attendees on their toes. Beware of the ghouls lurking in fresh, updated "terror-tories," as Busch Gardens takes Howl-O-Scream international. 
Chaos reigns in France, where jokers, free of rules and a king, prowl the streets to seek a new game to play on their victims. A joker DJ blares music through the boulevard with bright lights dancing to the beat, making it a night of thrill and fun in the court of fools. In Italy, the awakened dead claim the once beautiful gardens, and skeletons and ghouls dressed for their funerals stalk along the cobblestones, moving with inhuman grace. As the living walk past, the lost souls wait to scare the living daylights out of them. While in the haunted alleys of Germany, vampires await their next prey. These fanged dead aren't afraid to bite, so don't get too close.
Jack the Ripper is back, roaming throughout England, as fog clogs the paths, perfect for the Ripper to capture his next victim. Moving to New France, the viking theme  remains with the Norsemen planning their invasion. Meanwhile, it's all about fun at the circus in Festa Italia, where clowns and powdered actors not only perform, but also catch everyone off guard with their clappers and cymbals.
All seven of Busch Gardens' mazes capture more themes and new surprises, such as Circo Sinistro. This circus-themed haunted maze takes place in a series of tents. Each tent holds a character ready to make patrons jump with their screams and deafening instruments. Lumberhack takes place in the forest, where chainsaws echo throughout the trees. Vault XX relies on classic Busch Gardens characters, such as dolls, to frighten passersby. More haunted mazes include Frostbite, Cornered, Demented Dimensions, and Dystopia.
The atmosphere of Busch Gardens immediately changes when 6 'o clock hits, as the once non-threatening decor come alive. Jack-o-Lanterns glow, and the wind carries the fog through the park and into the dark. This park is meant for souls ready to experience the fright of their lives from the haunts that lie in Howl-O-Scream.
About the Contributor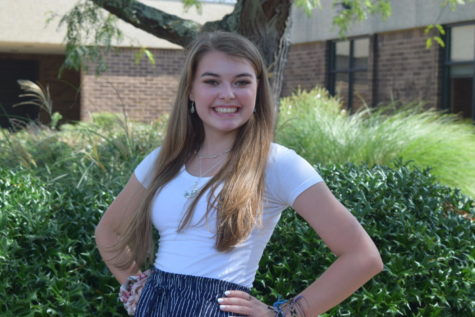 Rachel Bybee, A & E Editor