Age Versus Agility
Annual Senior Faculty Basketball Game
Hang on for a minute...we're trying to find some more stories you might like.
On Friday, April 15th, the much anticipated Seniors vs. Faculty basketball game finally arrived. Seniors, decked out in white Midlothian 2016 shirts prepared to play the faculty members, who psyched themselves up by donning blue Midlothian spirit shirts. After only a few minutes, the seniors pulled in front with an excellent three pointer by Drew Carrico. At the end of the first quarter, the score was 5-2, with the seniors in the lead.
During the second quarter, girls filled the lineup on both sides. On the senior side, Meredith McCarthy and Clay Honrado emerged as the stars, with Clay dribbling through the faculty and dishing out passes. However, not many of the senior shots were falling, and the faculty student teacher, Jessica Parker, who was also a basketball player at Longwood secured all the rebounds. After a low scoring quarter. the score at halftime was 5-8 with the faculty on top.
After a halftime show of Knock-out, won by Ian Connor and Matthew Lewandowski. The game quickly resumed with an all male line-up. The faculty quickly took control of the game due to the skills of school counselor, Mr. Darnell Erby and boys basketball head coach, Mr. Dave Brohl. At the end of the third quarter,  it looked bleak for the seniors with a score of 5-18.
The fourth quarter started slowly, but the seniors began a slow comeback due to the help of a 5'6 senior, Trevor Martin, who started the comeback with a perfect three pointer and continued to score, totalling seven points for the quarter. The defense for the seniors seemed unstoppable, holding the faculty scoreless throughout the quarter. After a few more points from the seniors, the final score ended as 18-18. Even though the game ended in a tie, the event proved a huge success, as proceeds from ticket sales benefit senior events and senior scholarships.
About the Contributors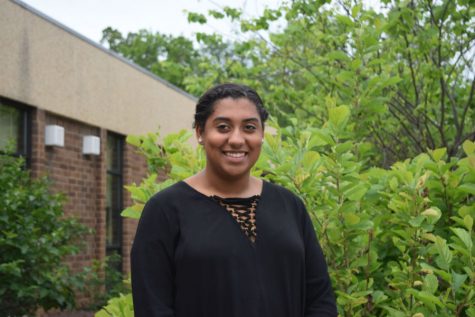 Alexa Battle, Photographer
Alexa Battle, Class of 2017