The Life Lessons Learned
What Lessons Have You Learned This Year?
Hang on for a minute...we're trying to find some more stories you might like.
Over the school year, students have pushed themselves with challenging classes, working hard to better themselves. Sometimes they learn life lessons along the way, some intended and some accidental. With the school year nearly behind us, they took time to reflect. 
What was the most impactful life lesson you learned this year?
Always write things down, so you'll remember it. – Pauline Spencer, Class of 2019
Don't have attitude with your teachers. – Leah Hoffman, Class of 2021
Even though you're in high school, your words are still worth being spoken. – Grace York, Class of 2018
Always be kind. – Emily Whitlow, Class of 2019
Always do your work right the first time. – Henry Hagen, Class of 2021
Always trust your teacher. – Molly Jarvis, Class of 2021
Don't procrastinate. – Elijah Cline, Class of 2021
Through challenges, you need friends. – Nora Carlucci, Class of 2020
Hard work equals success. – Ashton Philipp, Class of 2020
Don't take too much for granted. – Kat Moser, Class of 2021
If you don't finish something on time, still do it. – Matt Smith, Class of 2021
If you can't do everything by yourself, your friends can always help you. – Meredith Puster, Class of 2018
A lot of things are going to change. That's okay. It's all going to work out. – Madi Jarvis, Class of 2018
Principal Shawn Abel had his own take on the question, taking deep thought into it before advising: "Although it takes time, try to learn about every student. Behind every action, there's a story. Get to know them. It may be hard, but it's worth it."
About the Writer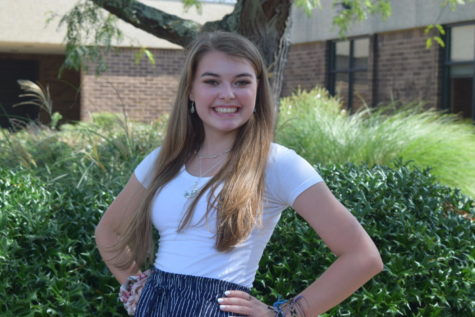 Rachel Bybee, A & E Editor