A World of Fun
Experiencing Disney World as an Adult
At 11:00 pm on Friday, March 30, Ashlyn Ferguson and I each crammed into our family vans to embark on our journey to an amazing destination: Disney World. Driving through the night, we reached Orlando at 1:00 pm, unpacked our belongings, and headed straight to the pool to soak up some sun before we were to eat dinner and begin our adventures in Disney World at the ESPN restaurant. We enjoyed a dinner of gourmet burgers and fries, while watching the basketball tournament and beginning the trip on a great note with an exceptional Michigan win. Pictures of athletes and teams from across America covered the walls of the restaurant, which amazed the group, especially my younger brother, who is a sports fanatic. Of course, when in Disney, everyone grabs some dessert after dinner, so we walked across the way and enjoyed delicious ice cream cones to end our first day in Disney.
On Sunday, following the complimentary breakfast of eggs and waffles at the hotel,  we traveled to Epcot, sprinting to the new ride, Frozen Ever After, as soon as the doors opened. For me, this was a dream come true, as Frozen is my favorite new Disney movie, and experiencing this one as my first ride ever in Disney World provided a truly wonderful experience. Continuing our adventure in Epcot, the next ride on our list was a virtual rocket ship, taking us through the experience of an actual rocket landing gone wrong. The intensity of this ride caused everyone's hearts to race when we read the warning signs as we waited in line. After surviving this thrill-seeking ride, we made a pit stop at the amazing Test Track experience. Accelerating to over 65 mph, this ride simulates a drag race around the perimeter of the facility. Finishing our experience in Epcot, we took a journey through space in the ball that makes Epcot what it is.
After taking a much needed break at the pool, we made our way to Animal Kingdom, where we spent the rest of our evening. With three fast passes in hand, we set out on a safari, experienced the best roller coaster in the park, and took a boat ride through the journey of the dinosaurs. Sadly, about halfway through our night it began to pour, but that didn't stop us from having an incredible night, even though we were soaked. After an exhausting day of walking around and riding rides, we finally arrived at a restaurant where we devoured a huge meal at the Rainforest Cafe. To finish off this feast, each of our families shared one of the legendary volcanoes: two scoops of vanilla ice cream, whipped cream, and chocolate cake, topped with caramel and chocolate drizzle.
Waking up early Monday morning, we ate a yummy breakfast and headed to Hollywood Studios, where we headed straight for the Tower of Terror. Packing into a space that felt like an elevator, this thrill ride took us up through the darkness and eventually dropped us all the way to the top of the building where we had a view of the entire park. While walking around Hollywood Studios after our ride, we eventually came upon a meet and greet with Olaf, following a Frozen sing-along show. Of course, with my love for Frozen, we attended both and had a wonderful time. After traveling through Hollywood and taking pictures of all of the scenery, we relaxed by the pool and prepared to head over to our last park of the trip, Magic Kingdom, to finish out our days in Disney.
Visitors to Magic Kingdom take a monorail to reach the actual park. While we made our way to the park, we looked out our window to see Disney in motion, as the excitement built. For our first fast pass ride of the day, we chose a Buzz Light Year-themed ride, which allowed us to travel around his galaxy. After this thrill seeker, we walked around searching for more ride until it was time to use our fast passes again.  Ice cream for dinner is always the best, especially when in Disney, so we each bought ice cream sundaes to savor as we explored the park. After a long day of walking around and waiting in lines, we came upon our last ride of Disney World: Space Mountain, which took us through a virtual reality of space. After the ride, we all agree that it was the best ride of our entire vacation. 
My first time in Disney World was an amazing experience, especially considering the fact that 3 out of the 4 of us are adults. I agree with Ashlyn's assessment of the experience:  "You are never too old to experience the magic of Disney World."
About the Writer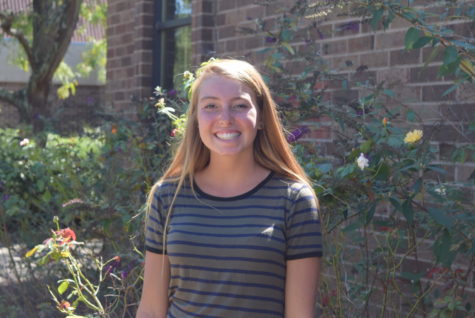 Eva Johnson, Midlo Scoop Staff
Eva Johnson, Class of 2018