Midlo Visits the Sunshine State
While Midlothian experienced chilly weather, these Midlo freshmen enjoyed a fun and relaxing vacation in Florida with family and friends.
Lena Caffall visited Walt Disney World from April 3 to April 8 with her mother, father, and brother, Cole. The adventurous family departed on Tuesday, arriving in Orlando after a grueling ten hour drive. Her family made the most out of their unforgettable spring break; the itinerary consisted of Epcot, The Magic Kingdom, The Animal Kingdom, Hollywood Studios, and Disney Springs. In Disney Springs, the hub of all things magical, Lena and her family shopped for souvenirs to bring back to Midlo. One night, the Caffalls dined at Hoop-Dee-Doo Revue, which provides a glimpse into the Old Wild West through entertaining theatrics and delicious food. During the enthralling performance, Lena and Cole had the opportunity to bang on washboards. Lena expresses, "it was so nice to have a relaxing vacation with my family," adding that she "can't wait until we visit Walt Disney World again in December."
Florida welcomed Chloe Martin and her mother, father, and brother, Ethan on March 31. The Midlo family arrived in St. Augustine after a long road trip, visiting beaches in South Carolina and towns in Georgia. Chloe and her family experienced a variety of bucket-list worthy activities, including a helicopter ride and ghost tour. Each morning, Chloe and her father, Gary, took a relaxing run on the beach while watching the breathtaking sunrise. Additionally, on April 2, the former Michigan family enjoyed cheering on Michigan State in the USAA March Madness Championship Game. After the game, the Martins visited cute boutiques and shops, and Chloe purchased an adorable sunflower ring. She describes the family journey as "an adventure that [she] will cherish for the rest of [her] life."
Naples, Florida greeted Libby Friedman and her mother, father, aunt, grandparents, and sister, Charlotte, on March 29. Their nine-day sojourn took place at Libby's grandmother's home in Naples. On the vacation, Libby and her family enjoyed Bonita Springs Beach, where they swam, tanned, and relaxed, while soaking in the goodness of the Florida sun. Additionally, the Friedmans kayaked, met manatees, saw alligators, shopped, hiked, and rode bikes through the streets of Naples; Libby most enjoyed paddle boarding in the ocean under the shining sun. She really enjoyed the trip and shared that she  "really want(s) to go back as soon as possible."
Whether the destination was a 5 star resort in Orlando or a campground near a loved one's residence, these fortunate students felt delighted to spend their Spring Break in the Sunshine State.
About the Contributor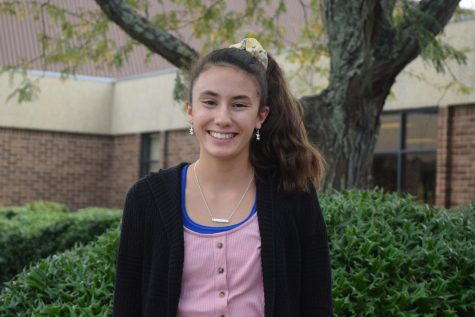 Katherine Krievs, Editor-in-Chief
Katherine Krievs, Editor-in Chief, Class of 2021