A Break from the Mundane
After an extremely lengthy and cold winter with no leave from school, students at Midlothian High School eagerly awaited Spring Break. While some students remained in Midlothian and spent their week off from school catching up on sleep and relaxing with their friends, others traveled all across the world in search of exotic landmarks and fun times with their family. Some students hit the sandy beaches with no worry in mind, and others went 2,500 west to explore glamorous California. No matter what the Spring Break adventure, students and their families found a way to detox and refresh their minds from the hustle and bustle of school.
Sophomores Claire O'Brien and Irish Kulas left the RVA for Exumas, Bahamas for a week filled with salty beaches and tanning in the sun. The duo had plenty of thrilling adventures on their trip, including swimming with pigs and getting their hair braided together. O'Brien states, "My favorite part was jumping into a cave in the ocean," and they returned home from their trip with memories that will last a lifetime.  While these girls hit the beaches, another family hit the slopes at their favorite ski resort in Park City, Utah. Sophomore Katie Patrick and her sister, freshman Devon Patrick accompanied by their father, went to go visit their grandparents in Utah, and while there, took advantage of the freshly fallen snow. "The views were stunning, and I loved every second of it," says Patrick. Every year, Spring Break is filled with many new experiences and different trips, and this year was no different.
Other students visited more exotic places throughout the Western hemisphere. Senior Hannah Lee went with her family to Belize in Central America and came back to Virginia with an amazing story. "I had the opportunity to swim with sharks in the water off the coast of Belize," says Lee, "It's definitely not something you get to see every day." While one student visited Central America, another explored Playa Del Carmen, Rivera Maya, Mexico. Bryce Mann experienced living in a jungle for a week. "5th Avenue Market was very cool to see; it's a lot of street vendors in one area of Mexico," said Mann.
Many Midlothian students spent their Spring Breaks alongside their friends. BJ Beckwith and Erin Babashak took a five-hour plane ride across the country that ended in Los Angeles, California. During their stay, they did all the "touristy" type things, like visiting the HOLLYWOOD sign in Hollywood Hills and posing in front of Sleeping Beauty's Castle in Disneyland, California. "The best part of my trip was my segway tour, when we got to see all the Hollywood landmarks," says Beckwith. They commemorated their trip by purchasing matching California T-shirts. Another Midlothian student found her way to the West Coast with her friend from Maggie Walker. Sophomore Joy Li traveled cross-country to Los Angeles as well, leaving Richmond, VA, in the dust. They cruised into Malibu and wasted their days away on the sandy beach. Best friends Frankie Urcia and Brooke Gore packed their flip flops and sunscreen for fun in the sun on the island of St. Thomas. Urcia elaborated on her trip, "I had the ability to relax and get away from the stress I have here in Midlothian and have an amazing experience with my best friend."
Students were not the only ones who got into the Spring Break festivities; teachers also took this break from school to travel all over the world. Marketing teacher Mrs. Carolyn Manheim traveled with her husband, children, and parents far away from Virginia, and into the wonderful country of Italy. This was her second trip to Venice, and her parents have been several more times than that. "Being a person who loves shopping, when I go to Italy I further my collection of small, glass figurines that are made in Murano, an island very close to Venice," says Mrs. Manheim, "They make all kinds of different objects that ranged from plates and glasses, to small animal figurines, and beautiful jewelry and pendants." Mrs. Manheim began her collection of these small, hand blown objects years ago, when her parents would bring back souvenirs for her. She has little fruits and vegetables, as well as tiny candies that look good enough to eat.
With 2016 Spring Break coming to a close, students and faculty reminisce on the time they had and the memories they made. Spring Break was a taste of the even better adventures these hard working students will have this summer, and with only nine more short weeks, summer is almost in sight.
About the Writer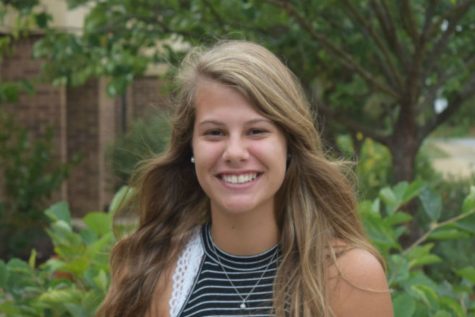 Sydney Van Horn, Midlo Scoop Staff
Sydney Van Horn, Class of 2017