Flipping Her Way to Success
A Gymnastics Spotlight on Sarah Kuennen
While most students at Midlo participate in school sports, like tennis, baseball, and lacrosse, senior Sarah Kuennen involves herself in another physical activity. Since she was 4, Kuennen has actively pursued gymnastics. Despite being a strong student academically in several AP and honors classes, Kuennen shows determination and excels both in and out of the classroom.
Kuennen initially began gymnastics after having the time of her life at a friend's gymnastics birthday party at a young age. "I have been doing gymnastics for 13 years. When I was 4, I went to my best friend's gymnastics birthday party, and my mom saw how much I loved to flip around. Therefore, she signed me up for gymnastics classes, and I have continued with it ever since," said Kuennen. Since then, Kuennen has competed at an intense level as a part of the Virginia International Gymnastics (VIGS) team, performing at Level 9.
As a competitive gymnast, Kuennen explained that she used to practice twenty hours a week; however, due to injuries, she now only practices twelve hours a week and teaches younger gymnasts for the other eight hours. With this strenuous and busy schedule, Kuennen reflected upon the difficulty of balancing both school and gymnastics. "I honestly do not know how I balance it all. It is definitely not easy, but gymnastics has definitely taught me time management. I know what I want in both gymnastics and school, so I make it all work out," said Kuennen.
In order to avoid getting psyched out by the competition and monstrosity of an event, Kuennen has set a routine in preparing for competition. "Before a meet, I do not do anything specific to prepare myself, minus practicing my floor routine a bunch," said Kuennen. "However, right before I compete my routine, my teammates give me a pep talk and remind me to have fun."
In the world of gymnastics, Kuennen has had some pretty memorable moments, displaying tenacity and perseverance. In her 10th grade year, Kuennen suffered an elbow injury so severe that the doctor told her that she could no longer continue with gymnastics. However, Kuennen worked hard to pursue her passion and found a way to continue doing gymnastics using only her right arm. "It was a struggle for the rest of the competition season, and not everybody understood why I kept doing gymnastics,"  said Kuennen. "However, I continued, and my goal was to qualify for our Regional Meet at the end of the season." In order to qualify, Kuennen needed to score a 9.0 at the State Meet, a formidable feat nearly impossible for anyone, especially in light of Kuennen's injury. "I went on to compete my floor routine at State Meet, and when I looked up after my routine, I saw that I got exactly a 9.0. At the moment, I do not think I could have been more happy. Not only did I make it to Level 9 Regionals for the first time in my life, but I proved to people that I could find a way to continue the sport I love, even if that meant I could no longer use my left arm." Since this achievement, as well as after breaking her right arm twice, Kuennen renders floor to be her favorite event in gymnastics.
Despite her injuries and struggles, Kuennen's greatest accomplishment in gymnastics is unequivocally persevering through all of her breaks and surgeries in order to continue gymnastics. After competing in her final big meet before college in Las Vegas recently, Kuennen had a chance to reflect on the work she has put into gymnastics these past 12 years. When asked about what the future holds for her, she explained that she would not be able to continue as a competitive gymnast in the future due to her elbow problems. "Also, I am having back surgery a couple days after graduation, which would not allow me to continue the sport anyway. However, I hope to manage the gymnastics team at William and Mary, so I can still be connected in some way with my sport." Though Kuennen may bid farewell to her career in gymnastics in June, the perseverance and dedication she has shown and continues to show will be awe-inspiring for all athletes now and in the future.
About the Writer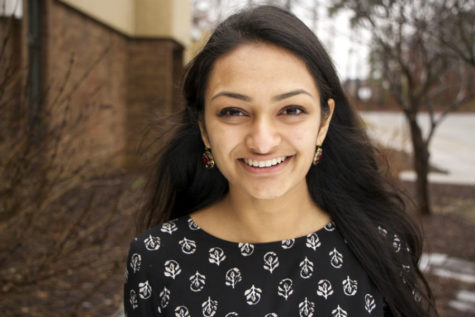 Neha Kulkarni, Midlo Scoop Staff