Seniors Embark on an Exciting Journey
Early Action College Acceptances
Over the course of the past few months, many students at Midlothian High School have received feedback from their dream schools.  For some, four years of very hard work has finally paid off upon receiving a long-anticipated acceptance letter.
On December 12, 2017, Virginia Tech sent out early admission responses. The average high school GPA is a 3.95 and SAT score is a 1180-1380  for acceptance into VT. Virginia Tech is a favorite of many Midlo students and has also been the dream for many students for a long time.
Luke Manheim dreamed of attending Virginia Tech since his elementary school years and felt a tremendous amount of joy upon receiving his acceptance letter. "I wasn't expecting them to be out yet, but I had been checking every hour or so just in case, and I clicked and all the sudden it was there. My heart started beating so fast, and nothing can compare to the moment I opened up the file on my computer and saw I had been accepted into the school of my dreams; I've never screamed so much in my whole life. I was so excited," Manheim shares. Josh Protacio applied to Virginia Tech under its prestigious engineering major, a very competitive field at this school. Protacio's excitement upon receiving news of his acceptance was unmatched, and he cannot wait to attend his dream school in the fall. Hillary Hettinger was thrilled upon receiving the news she is now a Hokie, feeling relief that she no longer needs to worry about college. Thomas Olivero applied to Virginia Tech early because he wants to be an engineer, and VT is recognized for its amazing program in this field. He felt such excitement upon receiving his acceptance and looks forward to attending his new school next fall. Twins Ben Clarke and Kyle Clarke both applied to Virginia Tech early as business majors, as they both have loved the school for many years. They were thrilled to both receive acceptances from their dream school, and even though they will not room together in college, they cannot wait to start the next chapter of their life with family by their side.
The prestigious University of Virginia also recently released early acceptance responses, a date that many Midlo students have awaited for many years. UVA is undoubtedly one of the most academically rigorous public colleges in the country, and it is considered an extreme honor to attend this school. UVA's standards for admission are extremely competitive;  the average high school GPA is a 4.23 and SAT score is a 1330-1510 .
Katie Daniluk received her acceptance to UVA as a business major, and she shares her excitement for "this new, thrilling chapter in my life." Her brother Kyle Daniluk may also attend UVA next year, and they look forward to possibly being together in college. Margaret Weinhold applied to UVA undecided, but one thing that is for sure is her excitement about her acceptance into her dream school. Senior class officer Joy Li felt an extreme amount of joy upon receiving her acceptance to her favorite school,"I was very thrilled to get into my top college choice, and I was so glad that my hard work in high school led to achieve my goal." Palmer Ward and Finlay Raphael both dreamed of attending UVA since their freshman year of high school, and plan to fulfill their dream next fall. Jenna Kyte lives with a family full of UVA fans,and was very happy to receive acceptance into a school that is beloved by her family. Jason Li felt an incomprehensible amount of excitement when he realized he would be a Wahoo next fall, and Evelyn Reece will also attend UVA next year.
James Madison University is known to be an extremely difficult school to receive an early decision acceptance as they are very picky with their decisions at this time. Not only is it an excellent school, but many Midlothian students adore this school. To be accepted into JMU early, high test scores and exceptional grades are expected. JMU's standards for early admission are very competitive, more so than regular decision to the school, but the average high school GPA is a 3.5, and the average SAT is a 1110-1290. 
Hallie Strickland applied to JMU under the nursing major and felt ecstatic when she received the news that her dream came true. "I'm super-excited to meet new people," she says, "Goooo Dukes!". Julia Deaver always wanted to attend JMU as a math major and was beyond thrilled upon receiving her acceptance. Mary Pinkerton received her acceptance to JMU as an art major, and she "can't wait for a fresh start" at an amazing school next fall.  Nathan Brown also felt a tremendous amount of relief upon receiving his long-awaited acceptance into James Madison. Sarah Arezo, Emily Smith, and Kennley Elliott may also be spending their next four years at James Madison, as they all received early acceptances to the school.
Hard work in high school has already paid off for many Midlothian High School seniors, as the bright beginnings to their exciting and unknown futures begin.
About the Contributor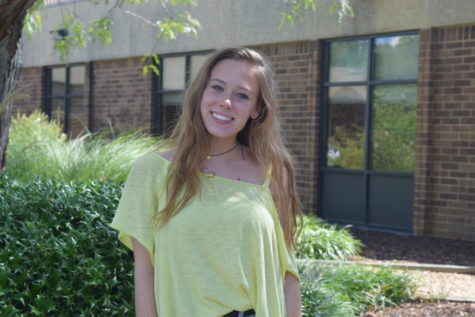 Sophie King, Midlo Scoop Photographer
Sophie King, Class of 2019