For What Are You Thankful?
As Thanksgiving approaches, Midlothian High School students and faculty ponder the relationships, events, and people that they feel thankful for this Thanksgiving.
I am thankful for…
Jackson Walworth: "…my mom and my favorite teacher, Mr. Davis."
Aidan Stevenson: "my family, especially my two younger brothers, and my baby brother that is coming soon."
Ethan Smith: "the three F's: food, family, and friends."
Sarah Rich: "my two dogs."
Gracyn Southworth:"food, my family, and my cat."
Joey Chung: "my sister, Taylor Chung."
Kodie Tannor: "my favorite teacher, Mrs. Carolyn Manheim."
Vic Lin: "my younger sister and my friend, Adrian Cox"
Adrian Cox: "my good friend, Vic Lin."
Mary Courtney Hettinger: "my awesome sister, Hillary Hettinger."
Sarah Aud: "to be healthy [and] alive, and for the opportunity to attend school with all my friends."
Abigail Graves: "my good friends and my family."
Sujeet Alwin: "my family, my friends in the Midlothian community, and the teachers at Midlo that have helped me get through the first quarter by teaching me something new every day."
Anxo Ramos: "all the nice people I have met while I've been in Midlothian."
Tori Bullis: "the opportunity to spend time with both sides of my family this holiday season."
Elizabeth Czenczek: "family and friends."
Brad Lipsteuer: "my good friend, Drew Mayo, and my favorite teacher, Mr. Ben Java."
Casey Joyce, Alex Knorpp, Dylan Carson, Reed Boettner, Kyle Clarke, and Trevor Christmas all expressed thanks for "the boys," their nickname for their group of best friends.
Zach Davis: "my little sister, Zoe Davis."
Luke Manheim: "my little sister, Ashley Manheim."
Math teacher, Mr. Chris Eliot: "being able to call Mrs. Carolyn Manheim my friend."
Assistant Principal, Mrs. Elizabeth Baber: "family, friends, and stuffed-crust pizza."
About the Photographer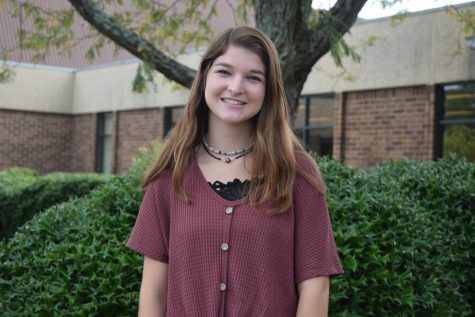 Ashley Manheim, Midlo Scoop Editor-in-Chief
Ashley Manheim, Editor-in-Chief, Class of 2020