Andi Mack Makes History
Andi Mack Returns For Season 2
Hang on for a minute...we're trying to find some more stories you might like.
The season two premiere of Disney Channel's popular television show Andi Mack made history on Friday, October 27th, when an LGBT character came out on the network. In the season 2 premiere, Cyrus Goodman (portrayed by Joshua Rush) reveals to his friend that he has a crush on the same boy that their friend, Andi, does. It was hinted at throughout season 1, but it was officially confirmed in the season premiere. When Cyrus expressed that he "felt weird… different" about his feelings towards another boy, Buffy Driscoll (Sofia Wylie) assured, "Cyrus, you've always been weird, but you're no different."
Junior Marisa Ruotolo expressed her excitement at the news: "I love Andi Mack, and it's so heartwarming to see this kind of representation in the media. There isn't much LGBT representation in general, and it's great to see this development starting in children's shows."
Andi Mack follows the life of teenager Andi Mack (Peyton Elizabeth Lee) who, on her thirteenth birthday, finds out that her sister, Bex (Lilan Bowden) is actually her birth mother. From there, Andi encounters all kinds of new problems with her best friends Cyrus and Buffy, from regular middle school problems like crushing on popular boy Jonah Beck (Asher Angel), to serious problems, such as dealing with racism and trying to discover who her father (Trent Garrett) is.
The progressive show deals with many adult, complex topics, such as racism and nontraditional family situations. As well as being the first Disney show to portray an LGBT character, Andi Mack also is the first show on Disney to have an Asian lead. Andi Mack focuses on three generations of the Mack family: Andi, her mother, Bex, and grandmother Celia, and explores the different facets of Chinese culture. The second episode of season 2, which airs on November 3, focuses  onChinese New Year and Andi's struggle with mixing her Chinese heritage with her American friends.
Tune in every Friday on Disney Channel at 8 PM to watch this groundbreaking show, hailed for its progressiveness and inclusivity. As Peyton Elizabeth Lee said, "We include. We support. We love. Everyone. No matter what. Not despite, but because of their differences."
About the Contributors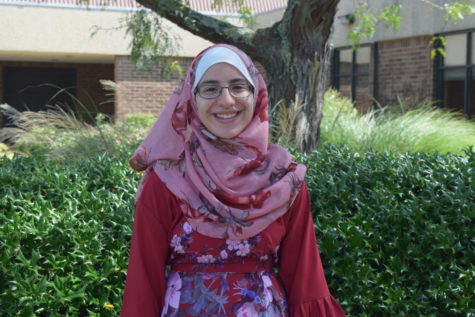 Nour Goulmamine, Midlo Scoop Staff