Midlo Latin Club Visits a Local Nursing Home
Thrice a year, the Midlo Latin Club visits a local nursing home in an attempt to brighten the lives of the elderly. On October 24, 2017, Midlothian's Latin Club visited The Atlantic at Brook Run, where they bonded with the residents and staff members. Although they visited for a mere hour, the members of the Latin Club immeasurably impacted the lives of the residents with their care and attention.
Immediately after school, seventeen students traveled to the nursing home for an opportunity to touch others' lives. Once at the venue, the residents and their caretakers greeted the kind-hearted Midlo students with smiles. Soon after, students and residents alike began to decorate pumpkins with mythological words and characters. The pumpkin decorating event gave the residents the opportunity to use their creativity during a social setting with the added benefit that they left with a decoration to make their apartments festive for Halloween.
Mrs. Amy Petersen, the Latin Club sponsor, remarks that the visit "was really wonderful. The activity broke the ice" as well as "made someone's day a little brighter." She points out that the visits "are a good opportunity for students to interact with their community."
These nursing home visits provide the most impactful way for the Midlo Latin Club to interact with the Midlothian community, but when the club members meet, they generate new ideas to make the county a better place to live and work. The Midlo Latin Club accepts all Latin students to participate in the fun activities of Latin Club. For more information on how to join Latin Club, please see Mrs. Peterson in Room 127.
About the Contributor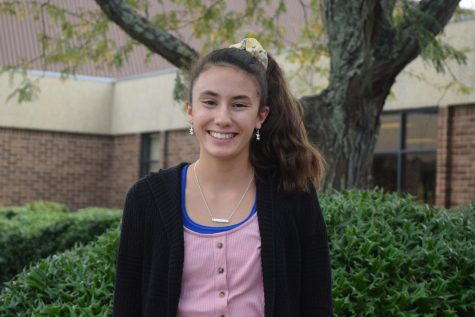 Katherine Krievs, Editor-in-Chief
Katherine Krievs, Editor-in Chief, Class of 2021