Seniors Reminisce About Girls State and Boys State
Seeking Leadership and Political Awareness
On June 11, 2017, nine students from the Class of 2018 were selected to embark on journeys that would teach them patriotism, the complexities of government, and leadership.
Every year, the American Legion Auxiliary hosts a week long leadership and government program for both boys and girls in 49 states. At Virginia Boys State and Virginia Girls State, rising seniors from throughout Virginia gathered to create and run their own mock governments. The programs consist of activities such as: legislative sessions, party conventions, court proceedings, and assemblies. Joitree Alam, Brooke Bailey, Sarah Harkness, and Joy Li traveled to Longwood University in Farmville, Virginia, to attend Virginia American Legion Auxiliary Girls State. That same week, Andy Baldacci, Ben Sultzer, Finlay Raphael, Jinwoo Kim, and Sai Poluri attended Virginia American Legion Auxiliary Boys State at Radford University.
On October 23, 2017, Virginia Girls State alumni gathered with Mrs. Christine Lawson, a Midlothian counselor and Girls State/Boys State coordinator, to discuss their experiences at Girls State. Bailey shared, "I liked that we got to make our own government. It really put into perspective what participating in elections is like with campaigning and hours of party conventions." After a full day of City Councils, delegates took a break from government and participated in activities such as: Zumba, self-defense classes, basketball, and Girls State Band. Looking back at her experience at Girls State, Harkness disclosed, "I loved being in the Girls State Band because girls in band from all over Virginia came together to put on a show in just a few days. Working with all girls was a cool experience.". 
A few days later, on October 26, 2017, some of the Virginia Boys State alumni met with Mrs. Lawson to debrief on their experience at Radford University. Poluri even took advantage of the government simulation and worked his way up to becoming a Supreme Court Justice of Boys State, one of the highest honors of the program. Baldacci reveals that he enjoyed making unforgettable memories with new long-lasting friends. Several of the boys note that they even stay in contact with a fellow delegate and Clover Hill High senior they met at Boys State. When Mrs. Lawson inquired about the food quality, the boys unanimously decided that it "was amazing".  After living in dorms for the first time, Sultzer remarked, "It was pretty cool to experience what it's like to live on campus.".
After sharing whimsical anecdotes about the ups and downs of the week, the boys and girls conclude that the week left them with strong new relationships and a greater interest in politics and desires for political participation.
About the Contributor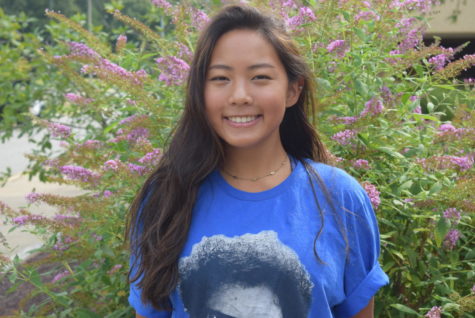 Joy Li, Midlo Scoop Staff