Murfee Makes Her Mark at Midlo
Mrs. Heather Murfee Joins Midlo Library
Midlo welcomes  Mrs. Heather Murfee as the new head librarian.
What schools did you attend?
I received my undergraduate degree from VCU and my graduate degree from Longwood.
Where did you work in the past?
Midlothian High School is now the third school in which I have been a librarian. Previously, I worked at Elko Middle School in Henrico County and Salem Church Middle School here in Chesterfield County.
Why did you decide to work at Midlothian High School?
While I loved middle school, I always knew high school was where I wanted to be. When I walked into Midlothian, I could tell that this school was a warm, positive, and accepting environment. This is a place that supports students and helps them find a place in the world.
What made you decide to be a librarian?
I am actually a career-switcher. I majored in English and always loved literature, but soon discovered a new love after college: technology. I worked in computer infrastructure in the business world for many years, but after having children, I went back to school to blend my love for literature with technology. The library is called the "Media Center" for good reason! Not only do we have a cutting-edge YA collection and non-fiction books to support academics, we also teach all the latest and greatest tech tools to help students and teachers demonstrate learning in fun, creative ways. I am proof that being a life-long learner is exciting, and you CAN reinvent yourself.
What are some interesting things about you?
I am a HUGE movie buff; I can whistle extremely loudly; I am a serious dog lover;  I love 80's heavy metal;  I love to cook and bake;  I am a foodie that LOVES trying new restaurants; and I love to kayak with my husband. My happy place is swinging in a hammock in the shade with lemonade and a great book.
What is your favorite thing about being a librarian?
It is almost impossible to name just ONE thing, but I would have to say it is making a kid + book match. Reading means different things to different people: to know we aren't alone, to explore different cultures, to learn new information, to escape on an adventure, and so on. When I can help connect a student with a book for his/her personal reasons, that's a big WIN for me.
What is your favorite specific topic to teach to students and why?
I LOVE history and social studies! Life is not static. History is real-life cause and effect on a global scale. I find it fascinating – especially history during World War II.
Who is your role model and why?
My aunt. She was a first grade teacher and a model mother. She encapsulated what Mother Teresa said, "If you want to bring happiness to the whole world, go home and love your family.".
What is your favorite book and why?
This question is not fair! It's so hard to pick just one. The Count of Monte Cristo by Alexandre Dumas. It has so many themes: ambition, jealousy, despair, revenge, romance. It is quite a roller coaster ride! A more recent favorite is All the Light We Cannot See by Anthony Doerr. This is a beautiful story set during WWII that entwines the experiences of a girl, a boy, the French Resistance, and a priceless diamond. My favorite YA book, though is Throne of Glass by Sarah J. Maas. Action, adventure, supernatural forces (good vs. evil), witty dialogue with a love interest? Yes, please!
Who is your favorite author and why?
I really like Neal Shusterman. No book or series of his is the same: dystopian (Unwind), when your nightmares come to life (Full Tilt), a mystery surrounding the inventions of Nikola Tesla (Tesla's Attic), the downside of Utopia (Scythe), a story based on his son's schizophrenia (Challenger Deep),and so much more! I had read several of his books/series before meeting him in person. He was so down-to-earth and genuinely appreciative of those who read his books. He is also a strong family man, who, in addition to writing books, tours with his son, bringing awareness to the topic of mental illness. In an interview, he stated his motivation as follows: "I wanted to find light within the darkness of what he had been through, and turn it around. I wanted him — and readers — to see that there is value even in our worst experiences, and we can use those experiences to bring about positive change in the world, and our own lives.".
About the Photographer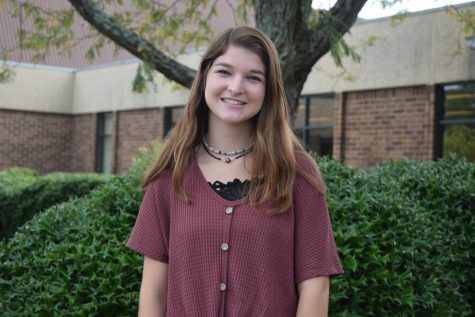 Ashley Manheim, Midlo Scoop Editor-in-Chief
Ashley Manheim, Editor-in-Chief, Class of 2020