Ghoulish Guide to Fangtastic Flicks
What to Watch During the Halloween Season
With Friday the 13th quickly creeping towards us, it's time to break out the DVDs and the popcorn. What better time to watch scary movies than on one of the scariest days of the year? Unfortunately, picking just one movie to watch is practically impossible for movie lovers.
The go to favorite horror Halloween movies this year are: IT and Annabelle: Creation.  Viewers who like to be on the edge of their seats will love IT, which centers around a drain-dwelling clown who lures children into the sewers and turns them into demonic and horrifying creatures. Annabelle: Creation is much like IT because of the child focus of the movie. A possessed doll, a childhood toy that many of us have had in the past, creates the main focus of a horror film made with the intention to give viewers nightmares.
For the less daring, some classic lighthearted movies to watch with the family are: Halloween Town, Hocus Pocus, Twitches and Coraline. Halloween Town is for all the family to laugh about, as they enjoy the lovable ghouls, goblins, and witches of Halloween Town and follow the young Cromwell siblings in their quest to find the magical powers their mother has hidden from them. Another fun to watch family film is Hocus Pocus, which follows three witches who are up to no good, released by three curious teenagers who now have to find a way to stop them from becoming immortal. In Twitches, two young twin witches, who grew up separated in a non-magical world in order to protect them from an evil darkness that has taken over their magical country of Coventry, must join their powers to find their mother and save Coventry and the non-magical world before the darkness takes over everything.
Coraline, a claymation film, is a special family Halloween movie about a young girl who finds a door to an alternate universe in her home. She loves it there until her other mother and the rest of her family try to keep her there. She then has to find the courage to reach her true home again.
Whether you are a horror fanatic or a lighthearted movie lover, a Halloween movie awaits. Enjoy the spooky season.
About the Writer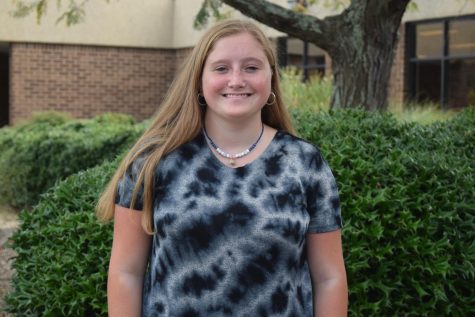 Emily Gundel, Midlo Scoop Staff
Emily Gundel, Class of 2021